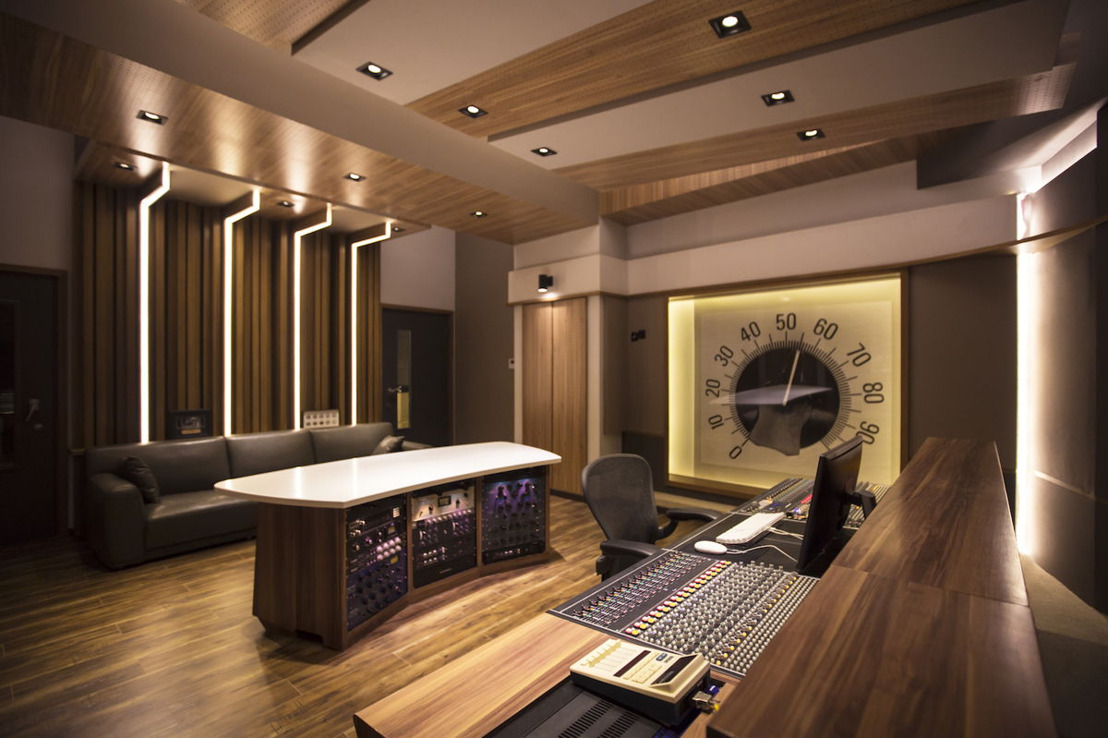 China Embraces Modern Facility Design in a Range of Vertical Markets, as WSDG Expands Its Preeminence in Acoustics
Monday, April 16, 2018 — Beijing, China — Global architectural acoustic consulting firm Walters-Storyk Design Group (WSDG) has been renowned throughout the world for decades for its mastery of acoustic consulting for spaces ranging from recording studios to hotel nightclubs. Recently, rapidly developing China has proven a hotspot for WSDG services, increasing awareness of the firm's unique capabilities in the region and providing numerous opportunities for the WSDG team to showcase their skillset.
"China's growth in recent years in so many varied industries, from recording and media production to hospitality has been remarkable," says WSDG Founding Partner John Storyk. "It has presented exciting opportunities for WSDG to practice our craft in ensuring these projects meet the acoustic and technological goals of the artists, entrepreneurs, and academicians who manage and operate them."
Top of the Charts
China's youthful population and growing economy has helped stoke a thriving pop music scene, and the studio industry is growing to meet that demand. WSDG provided design services for new showcase recording studio 55TEC, which has produced six China #1 singles in less than a year of operation. Artists like Bruce Liang and Li Yuchun have chosen to work with industry-leading engineers like Golden Melody Award winner Li You at the studio, which offers dual control rooms, a live room and a spacious isolation room.
55TEC associate Lizzy You cites WSDG's reputation as the designer of numerous hit-making studios in cities ranging from New York to London and Belo Horizonte, Brazil, as the impetus for retaining the firm to realize a facility to serve China's upper echelon of pop stars. For their efforts, WSDG was honored with a TEC Award nomination at this year's NAMM convention in Anaheim in the category of Studio Design Project.
Next Generation Studio
When Hong-Kong based artist Hins Cheung set out to build his own uncompromising recording studio complex, Guangzhou Village, he was motivated by a desire to meet his expanding artistic vision and to fill a niche for world-class recording facilities within mainland China. The studio needed to accommodate pop and rock artists while also providing the physical and technological capacity to serve as the home for Guangzhou's symphony orchestra. Yet another piece of the puzzle was his desire to develop a place to train the next generation of China's recording engineers, to correct what he saw as a lack of technically savvy sound mixers.
With his educational aspirations in mind, Cheung worked with WSDG to ensure that each of the spaces within the complex, from the control rooms to the recording rooms, were not only large enough to make artists comfortable but also sufficiently spacious to accommodate classes of engineers-in-training. Cheung engaged WSDG for the studio's design not only because of the firm's pedigree and association with iconic recording spaces, but also because of its experience designing educational facilities for the Berklee College of Music (Boston & Valencia, Spain), New York University and many other leading schools. Hins Chung's nearly 4,000 square foot complex is currently the largest recording studio in China.
An Eye for Education
WSDG's mastery of recording facilities with educational applications has also been harnessed by Zhejiang Conservatory of Music, a publicly funded institution in the southwest of Hangzhou that hosts 4,000 students and faculty of 320. It is the largest music school in China and one of the largest in the world! Here WSDG was brought on board to design an ambitious educational recording facility featuring a 1,000+ square foot live room capable of accommodating a full orchestra. The facility's 300 square foot control room is tailored to allow students and performers ample space to comfortably listen and engage as the mix comes to life. Attractive modern finishes function not only to enhance the atmosphere, but also are carefully designed to maximize acoustic performance.
Holistic Hospitality
In China, awareness of WSDG's prowess in acoustic design extends beyond the music industry, permeating the burgeoning hospitality industry as well. This profile led to WSDG being retained by Beijing's Pangu 7-star hotel to ensure optimal acoustic performance within the hotel's five-tower complex, designed by world-renowned architect C.Y. Lee. WSDG came aboard early in the design process to provide consultation on acoustic concerns from sound leakage to reverberation characteristics of individual spaces. The firm's contributions helped minimize noise pollution within the hotel's luxurious interior and ensure an optimal experience for guests, with particular attention paid to the Ballrooms, Executive Conference and Meeting Rooms, and to the hotel suites and private residences. The result was an eminently satisfying guest experience. Engaging WSDG at the design stage eliminated the need for costly reconstruction to correct sound leakage and related acoustic issues after the complex was completed.
More to Come
WSDG continue to attract challenging projects in China. Most recently the firm was awarded its first assignment in Shanghai. The Yun Residence is a multifaceted facility which encapsulates a recording studio, an opera performance venue, a screening room, and a conference room. With contemporary design flourishes and high-grade acoustic performance in each of its spaces, the Yun Residence is primed to ably serve the city of Shanghai and further establish WSDG's acoustic design prowess in China.
On the educational front, the Beijing Film Academy, has also recently tapped WSDG's expertise for its latest capital project. The firm is in the process of designing a new control room, live room, and rehearsal room for the Academy, China's only film school and the largest in Asia.
"Our assignments in China have been immensely rewarding in terms of helping to create spaces that will serve their burgeoning arts communities," says Storyk. "Many of these facilities are the first of their kind in the country, and they match their country's historic proclivity toward grand works. We hope that WSDG's design contributions help them create memorable experiences for everyone who makes use of them, be they artist, student, instructor or audience member."
Jeff Touzeau Public Relations, Hummingbird Media, Inc.