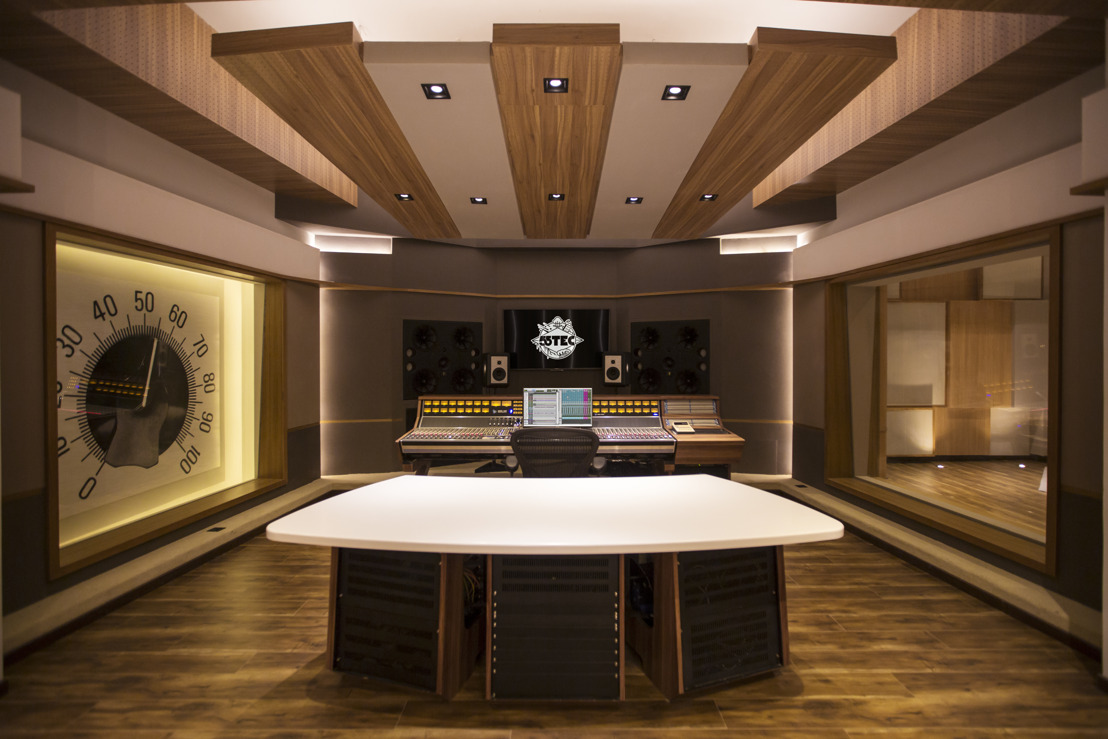 55TEC - WSDG'S FIRST BEIJING STUDIO TRACKS SIX #1 HITS IN 2017
World-Class Studio Mines Gold Records
Friday, February 23, 2018 — ​BEIJING, CHINA - Vividly illustrating the impact of introducing a world-class WSDG Walters-Storyk Design Group recording studio, to China's pop music scene, 55TEC has quickly become a hit song goldmine. Studio owner and Golden Melody Award-winning recording engineer, Li You reports that the showcase complex has produced six China #1 recordings, and three additional Top-ten charting hits since opening its doors in May 2017.
And The Winners Are:
Bruce Liang cut "Soul Singer" in February prior to 55TEC's official opening, and hit #1 that month. He returned to 55TEC in June to record "Fall Deeply" and placed #5 on the charts in August. One of 55TEC's first sessions, "Not Single," recorded in May by 'born diva' A-Lin hit #1 in August. Superstar Li Yuchun recorded "Yi Tang" in August, and achieved #1 in November. Leading artist Joker Xue recorded "Hands At Back" in November and leapt to #1 that same month. Major star, Hua Chenyu cut "IQ 250" in September and attained #1 in October. Sensational singer Jin Zhiwen recorded "Cry To You" in August and reached #1 in September. Seventeen year-old pop idle Roy Wang cut "Seventeen" in October and charted #3 in November. Popular star, Jane Zhang recorded "The Women's Kingdom" in October. She reached #4 in November, and recently performed the song at the 2018 Victoria's Secret Fashion Show in Shanghai.
As the world's second largest economy, China's youthful population has a huge desire for popular music. Major artists have loyal followings and fan appreciation of pop music is enjoying phenomenal growth. The timing for introducing a state-of-the-art recording studio last year was clearly spot on.
"WSDG's global reputation for designing extraordinary recording studios inspired us to reach out to them to assure China's top stars that our studio was serious about offering the highest quality recording option," said 55TEC associate Lizzy Zhou. "WSDG founding partner, architect/acoustician, John Storyk's credits range from Jimi Hendrix's historic Electric Lady in 1969 to NY's Jungle City and Paul Epworth's amazing The Church Studios in London. WSDG has won eleven NAMM TEC Awards for Creative Studio Design, and 55TEC is proud to have been nominated for the 2018 Award. We are very pleased to join this incredible family of hit-making studios, and excited to have charted so many #1 hits at 55TEC in our first year," she concludes.
Photo: 55TRC Studio Control Room A
###
Howard Public Relations, HOWARD SHERMAN PUBLIC RELATION