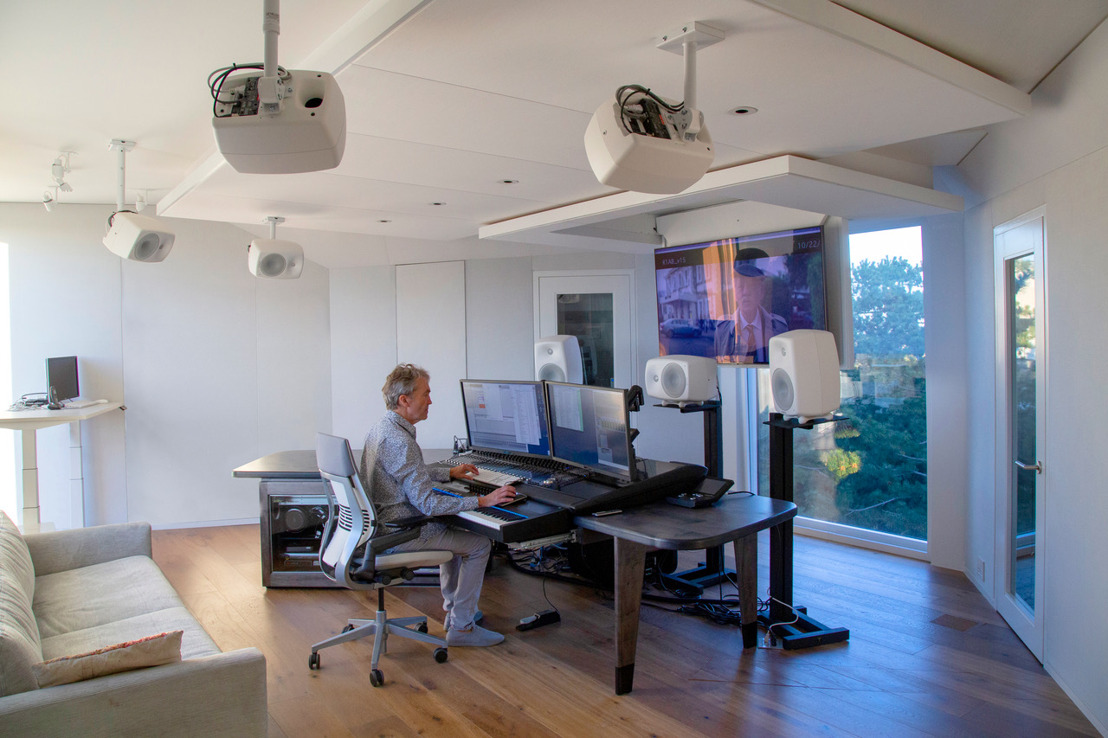 Carter Burwell Calls WSDG For New Studio Encore
Compelling Ocean View Inspires Film Score Creativity
LONG ISLAND, NY: Carter Burwell's first WSDG Walters-Storyk Design Group studio was completed in his Tribeca loft in 1999. That initial home studio served the prolific film score composer exceedingly well. His IMDb CV is peppered with iconic credits ranging from Todd Haynes' Carol and Martin McDonagh's Three Billboards Outside Ebbing, Missouri (both Academy Award nominees) to Spike Jonze's Being John Malkovich and all but one of the Coen Brothers idiosyncratic films including, Fargo and The Big Lebowski. In 2018 Burwell returned to the WSDG Architectural/Acoustic & Engineering Design team to commission a new studio in an ultra modern home he was remodeling on a bluff overlooking the Atlantic Ocean near Montauk Point.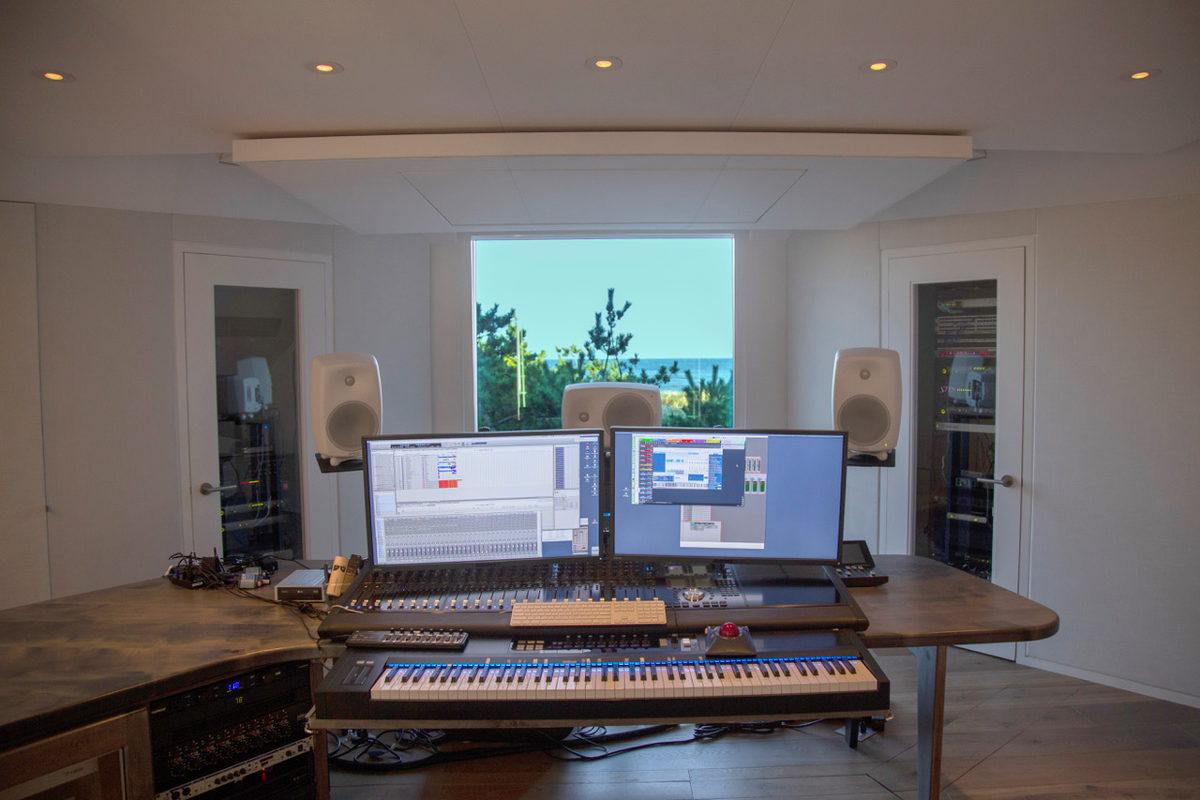 Engaging WSDG while his home renovation was still on the drawing boards provided Burwell with many advantages. Founding partner, John Storyk, Partner/COO/project manager, Joshua Morris and the design team made acoustic and ergonomic recommendations early in the process that maximized the efficiency of the new addition to the house and enhanced the studio's recording and listening quality. Working with an open floor plan, WSDG prescribed a 600sf studio in a separate wing attached to the 2nd floor of Burwell's 4,420sf-home which was being renovated by architect Maziar Behrooz. Acoustically isolated from the living/entertaining quarters, the studio is large enough to host visiting filmmakers, and small enough to make an inconspicuous footprint on the home.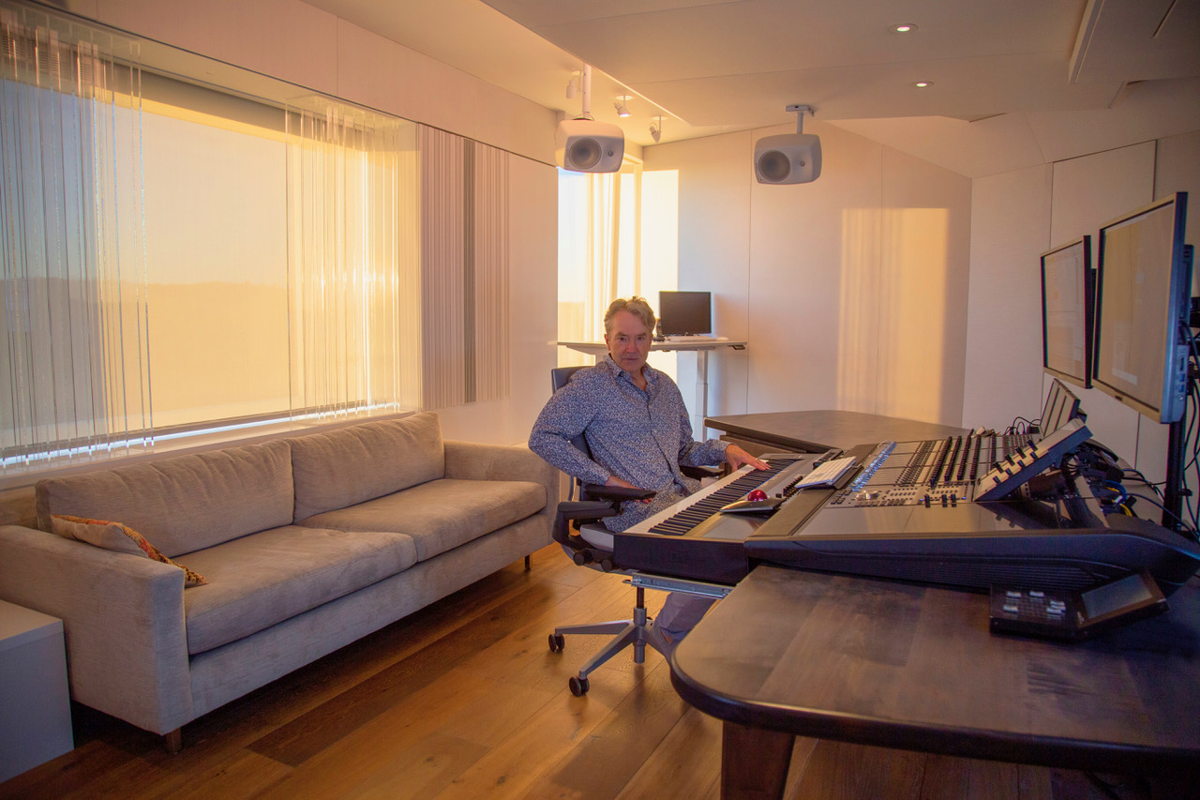 Joshua Morris describes the sunny, high ceilinged studio as an ideal creative space. "Carter was happy with the gear complement from his original Tribeca studio but opted for an Avid S6 32 fader console in his new room. He stayed with Genelec for the surround monitoring system, 8351A mains and 8300 surrounds. His composing keyboard can alternate positions between the ocean-facing console (and a 65" flat screen that "flips down" from its motorized ceiling mount) to a second location in the rear of the room with an equally commanding view. Motorized sheer and blackout shades were installed to block sunlight for composing and mixing sessions.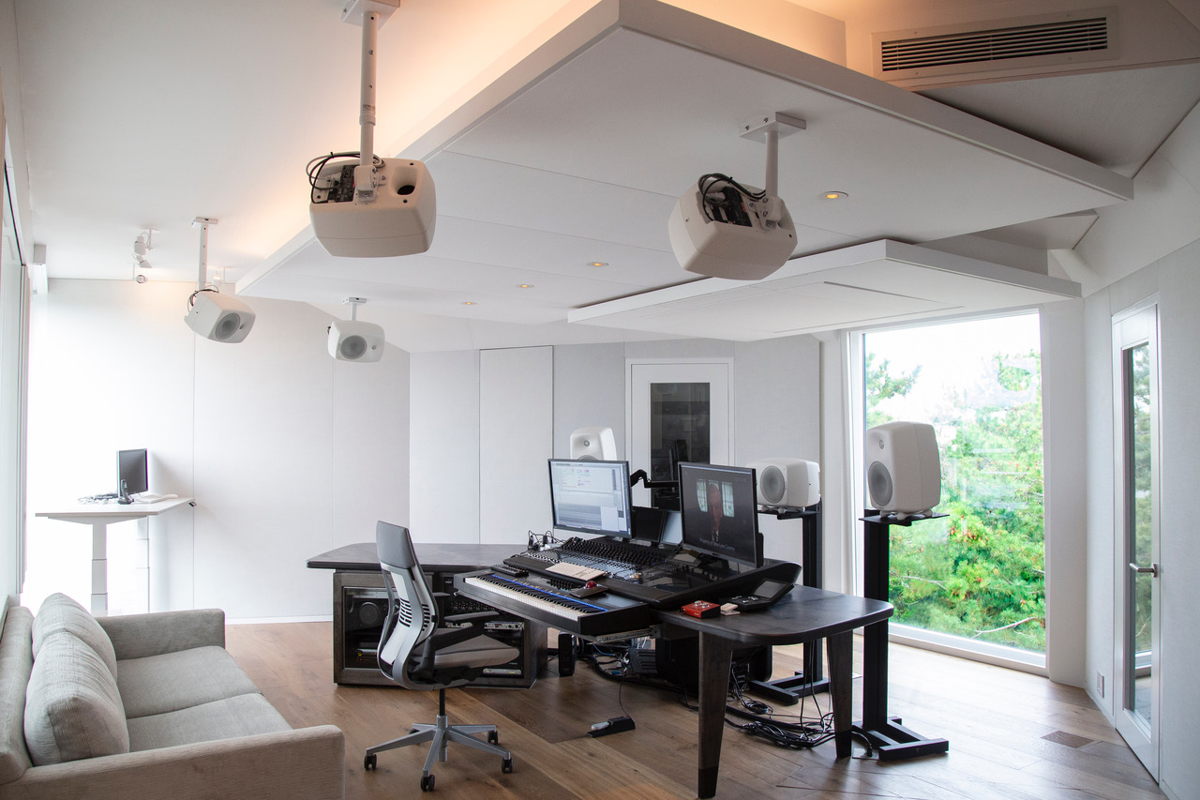 The studio is a study in fully-floated isolation and is precisely tuned with RPG Acrylic Quadratic Residue Diffusors, and RPG Micro-Perforated wall treatments, as well as custom broadband absorption and diffusion – all hidden from view behind fabric for a clean and ordered aesthetic. It was designed to assure Burwell of ideal recording and listening acoustics. Compact equipment closets and a small office complete a studio that fundamentally represents a 600 sq. ft. sweet spot.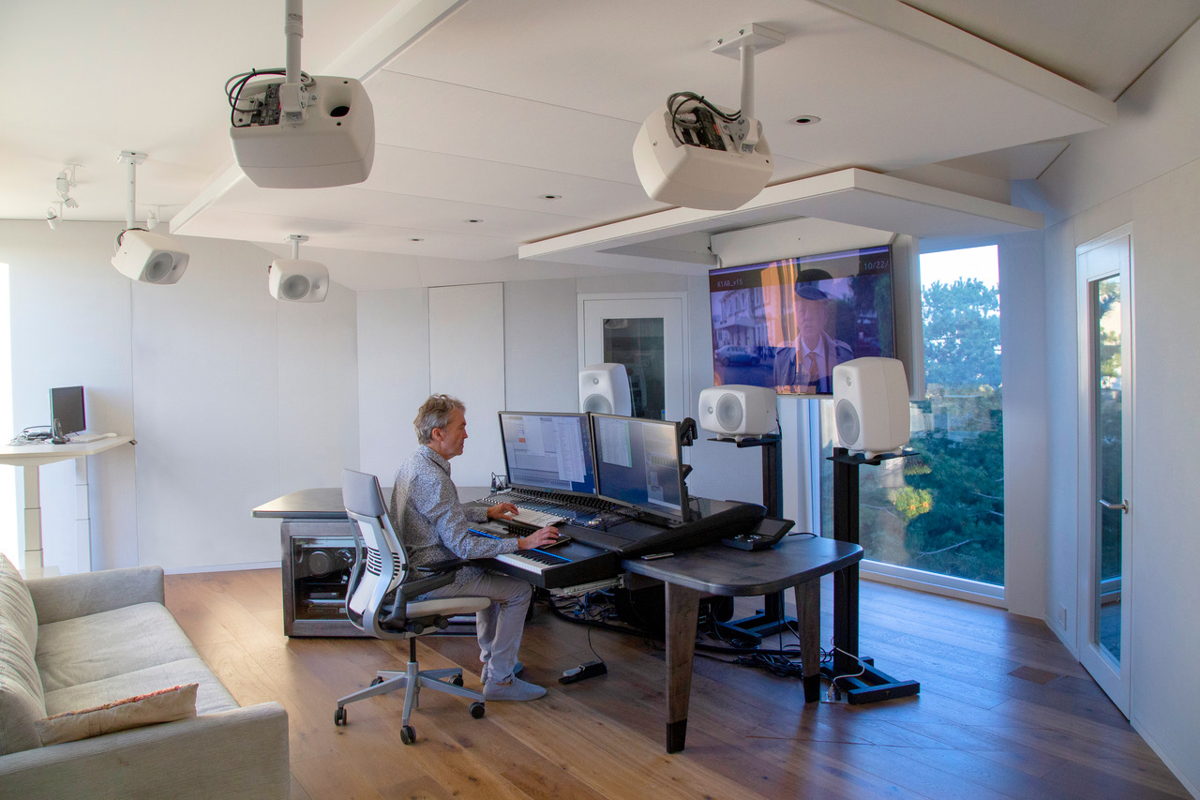 Christened "The Body," the studio features a flawless systems integration by WSDG Sr. Systems Designer, Federico Hugo Petrone. It also represents the final assignment designed by long-time WSDG resident HVAC genius, Marcy Ramos who sadly passed away soon after completing his work on the project," Morris concludes.
"Carter Burwell has a penchant for clean, uncluttered workspaces," John Storyk remarked. "We learned that early on with his Tribeca studio. Outfitted with acoustic doors and windows and set apart from the living and entertaining areas, this new room should provide Carter with all the serenity and visual inspiration his creativity requires. And, when he feels the need to get back to nature, he can hit the deck for fresh ocean air and the spectacular view."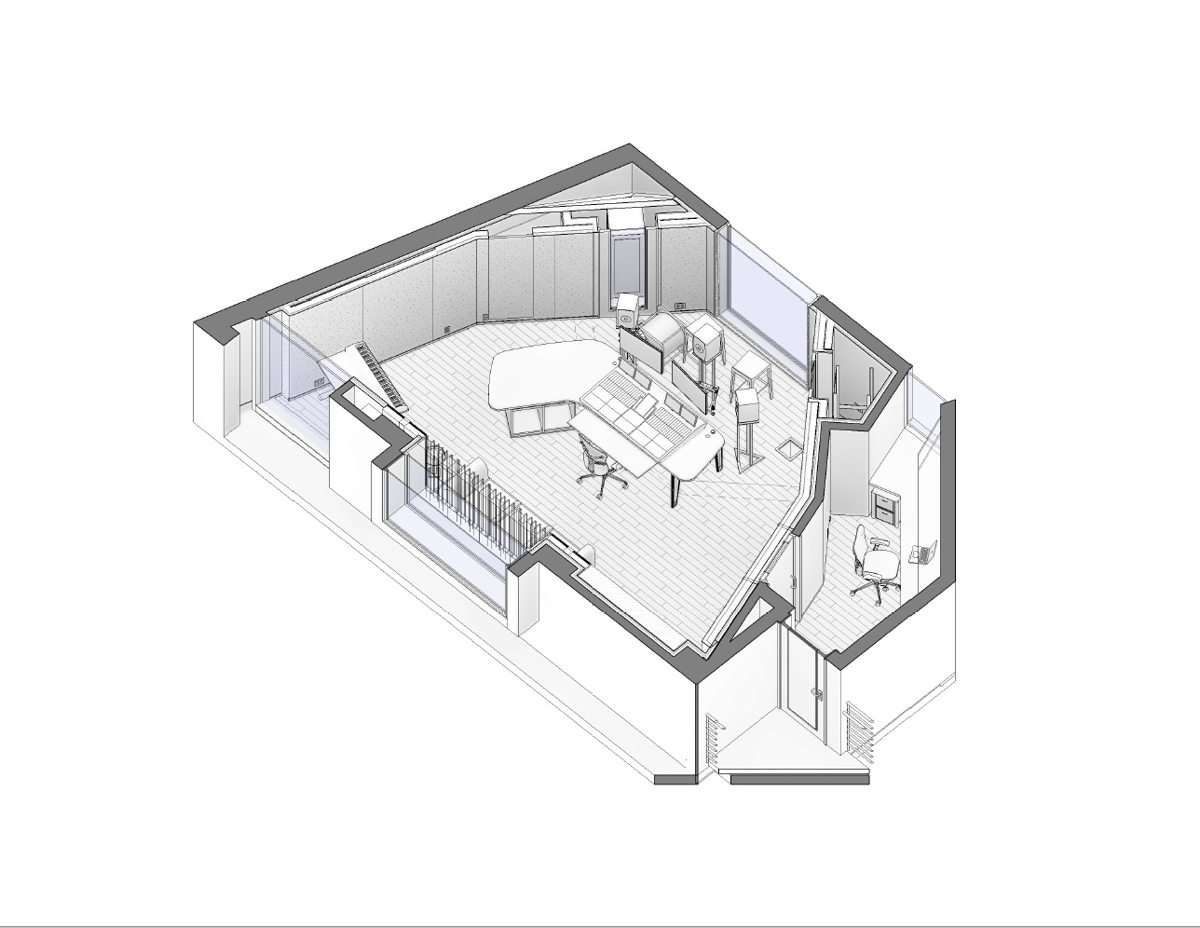 "John Storyk and I had already gone through the 'getting to know you' part of the architect-client relationship twenty years ago, so we didn't have to discuss aesthetics, or my penchant for views and light," Burwell said. "But acoustic and electronic technology had changed in that time, and John and Joshua helped bring these to bear so that the room looks simple and calm, despite my fairly complex requirements. This calm is what I need to write, and one could hardly ask for a more beautiful environment in which to work."
Howard Sherman Howard Sherman Public Relations
All photos by Tycho Burwell
###