First Lutheran Church of Fargo, ND Tasks Wild I CRG, WSDG, and Tricorne Audio For Major Expansion
New Celebration Center Integrates Cutting Edge A/V & Acoustics
FARGO, ND -- Originally built in 1917, Fargo's First Lutheran Church has served as a rock of solace, inspiration, spiritual training and community service for over a hundred years. In 2017, continued parish growth and a need to modernize its original facilities inspired Senior Pastor Corey Biertness and his dedicated assembly of pastors to initiate a fundraising drive which successfully provided the church with the means to undertake a much-needed expansion. Drawing assistance from its congregation for the expansion, First Lutheran enlisted Mike Wild, principal local architectural firm WildICRG, and Dallas Anderson, lead audio designer of Tricorne Audio, Inc., for facility design and A/V systems planning/integration. Art Phillips, another long-time member of the congregation and the owner of a successful local recording studio, recommended global architectural and acoustic design firm WSDG to handle the all-important acoustic considerations of the expansion in order to ensure improved speech intelligibility and live music performance clarity.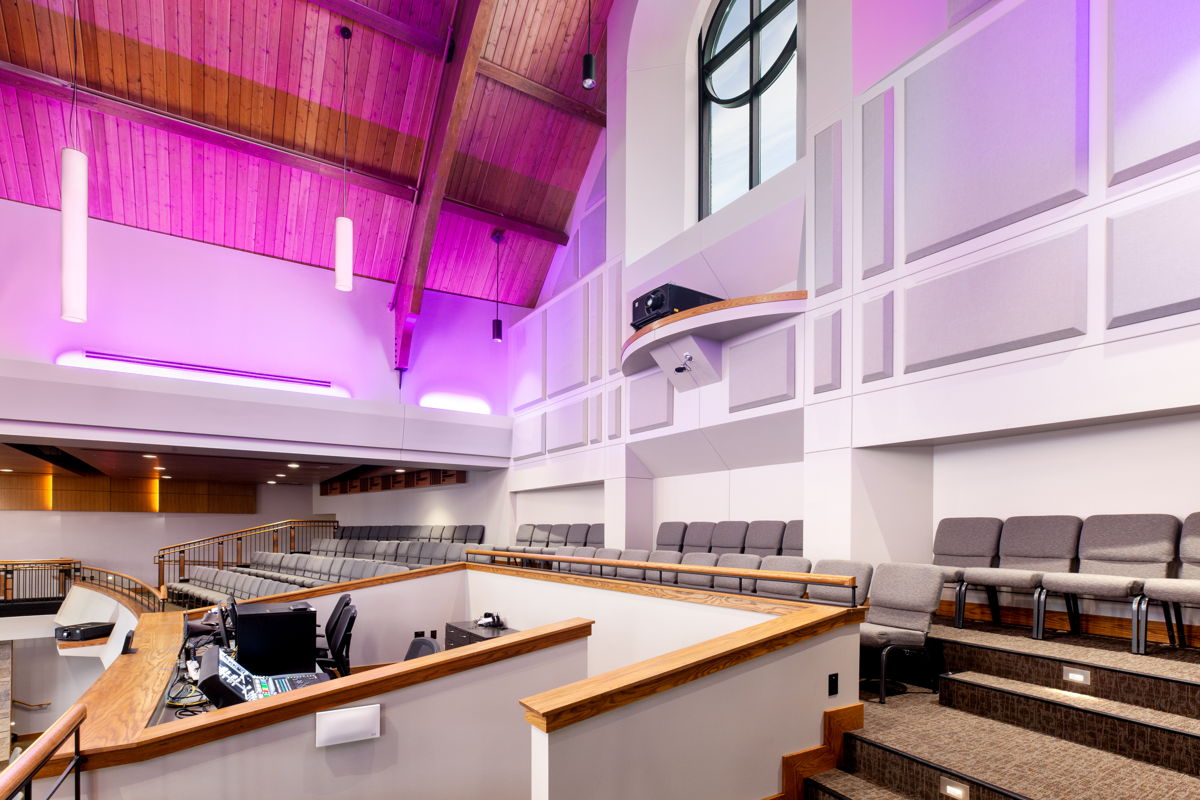 Cause for celebration
​The heart of First Lutheran's expansion is The Celebration Center, a double height performance hall with main floor and balcony seating for 706 parishioners, 534 on the ground floor level and 172 in the balcony. The Celebration Center was designed as a welcoming setting for both religious services and live entertainment productions with a sloping, acoustically treated ceiling and a large stage to provide a superlative setting for prayer, sermons, religious services, choir and other musical performances. "Our design for the Celebration Center was carefully planned and included components of modernization to help meld the new construction with the classic original buildings," said Wild. "Elements like a glass stair shaft provided a cohesive component that served a judicious unifying purpose. WSDG was proactive in pointing out potential acoustic problems, and I'm sure their recommendations saved time and money on unanticipated 'fixes' down the road."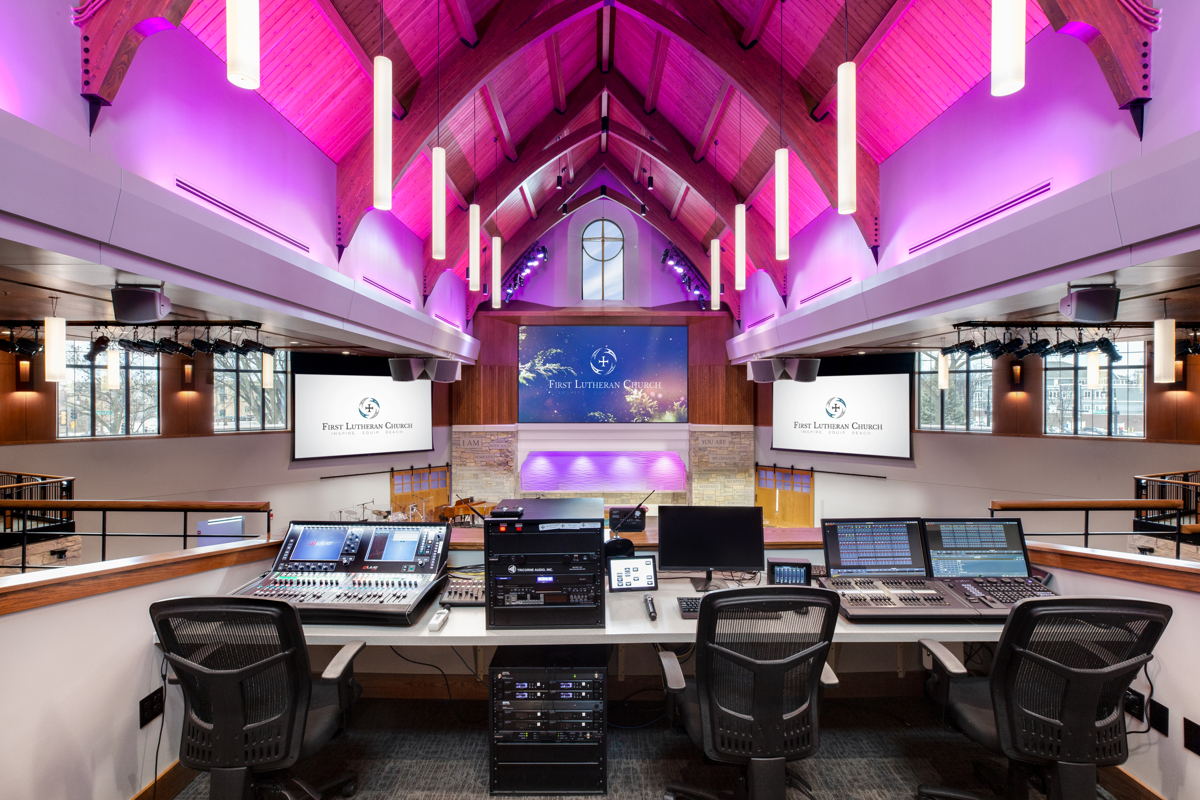 WSDG COO/Project Manager Joshua Morris and Partner/Acoustic Engineer Andy Swerdlow worked closely with both Wild and Anderson to develop a comprehensive acoustic program to provide First Lutheran with absolute system performance clarity and optimal speech intelligibility, and Basel, Switzerland-based WSDG Partner/Director of Acoustics, Gabriel Hauser performed extensive work on the PA systems. "We collaborated closely with Mike Wild on the acoustic design and were very pleased to find him knowledgeable about the importance of carefully plotting out the placement of necessary wall and ceiling treatments prior to construction," Morris says. "We also consulted closely with Dallas Anderson on technology recommendations. Everyone was very open to our recommendations and the entire three-year design and build process was a textbook example of supportive input."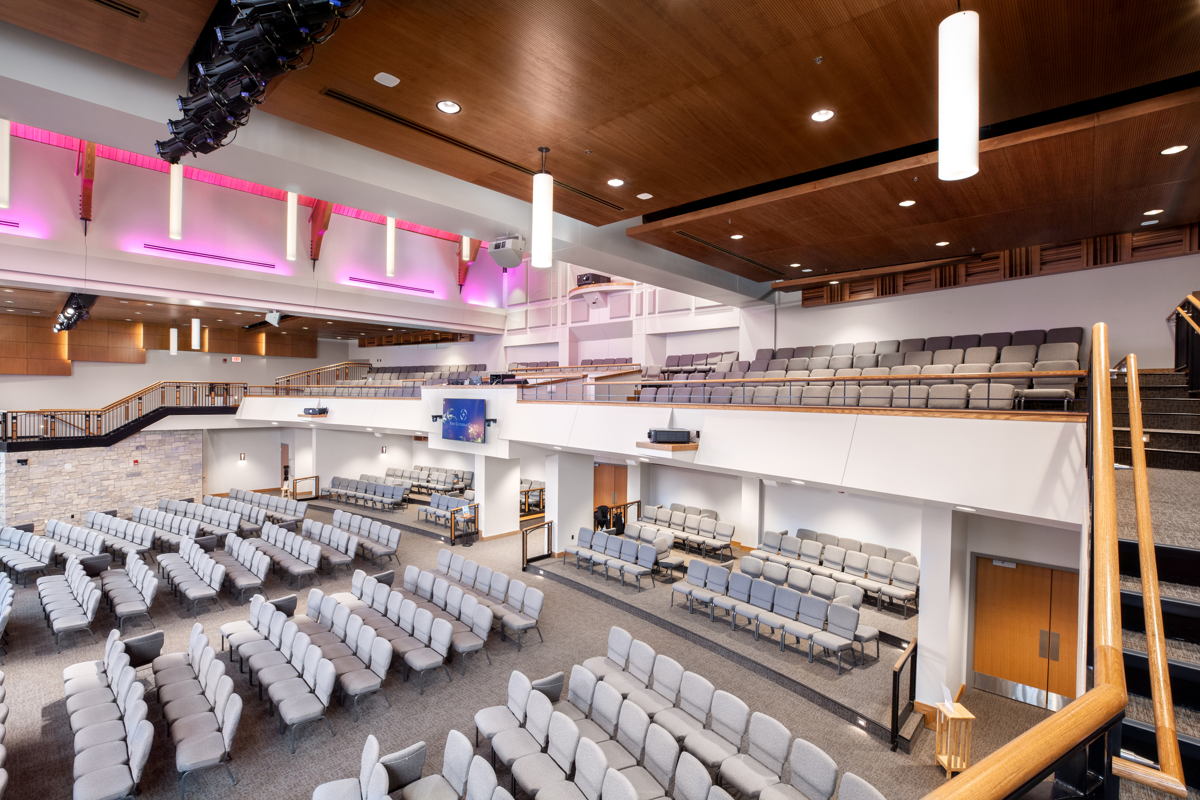 Sound for worship
​A comprehensive sound reinforcement system was designed by WSDG, which was modified for the chosen speaker system and installed by Tricorne Audio, Inc. Key technology includes Fulcrum Acoustic speaker arrays positioned in the ceiling above stage left & right, an audio/video production central control area is stationed at the front of the balcony with three mid-ceiling mounted speakers and two Digital Projection E-Vision video projectors mounted in front of the balcony. An Allen-Heath DLive 64-channel digital mixing board and Allen-Heath IP8 lecture sound control system facilitates both basic and more complex presentations. An Extron DTP CrossPoint 4K matrix switcher provides control for multiple inputs to the projection system. A large stage and giant (non-motorized) Da-Lite Cinema Contour HD Progressive 282" x 162" screen and motorized left & right side 192" X 108" Da-Lite screens provide clear viewing to services and performances for all audience members. The acoustics and technology have been fine-tuned with cutting edge wall and ceiling treatments to enhance listening appreciation, with the wall behind the large center screen also serving as a membrane resonator for low frequency absorption.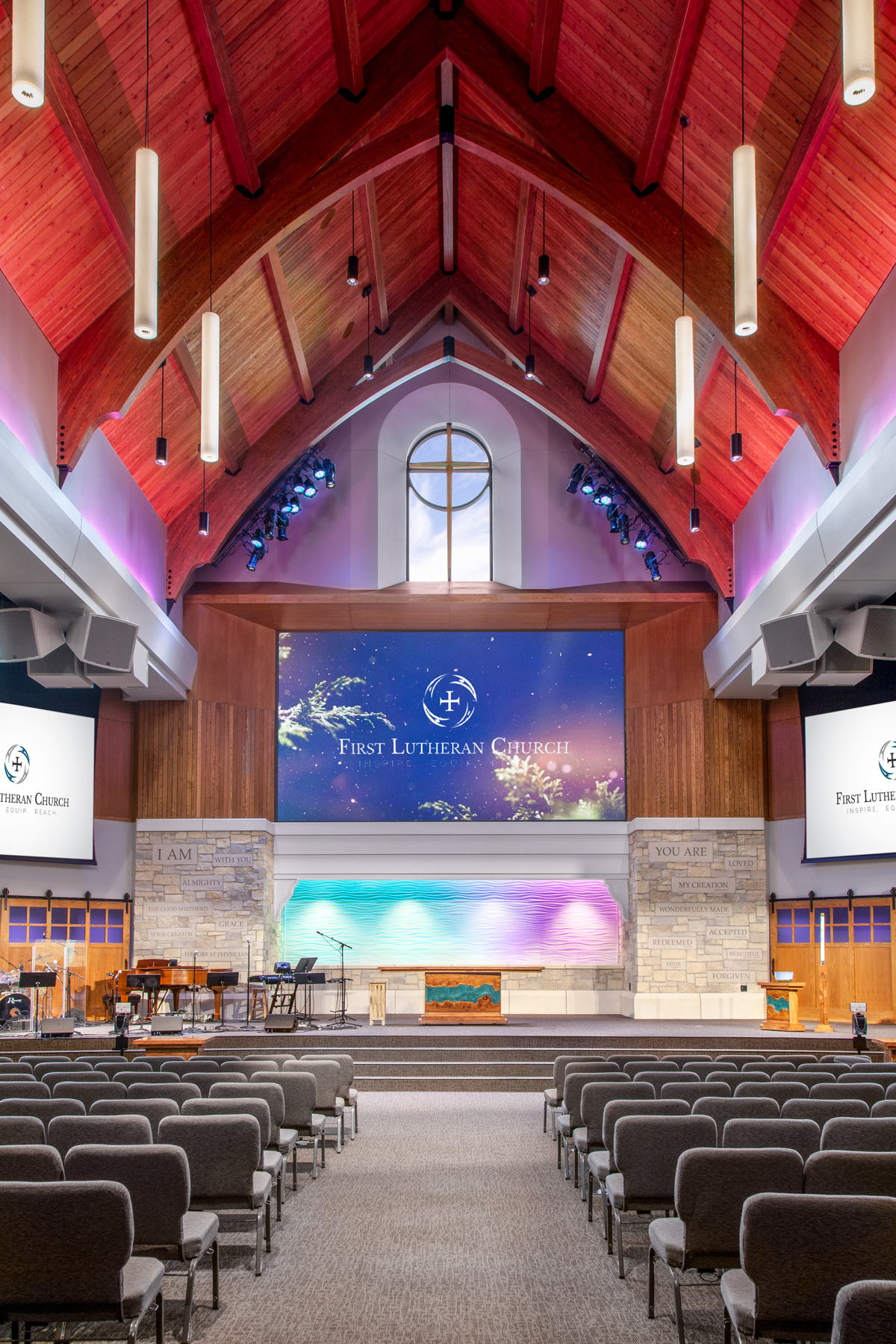 Commenting on the acoustic footprint, Tricorne Audio's Dallas Anderson remarked, "The sound quality of the Celebration Center performance hall is phenomenal. We selected Fulcrum Acoustic speakers for the main house. They're compact and provide an excellent pattern control. The entire system projects a terrific balance of contemporary and traditional sensibilities, and it has been performing flawlessly. It's quite versatile, and thanks to state-of-the-art technology like Dante Signal Processing and a simplified 'easy button-style' IP8 remote controller the system is very user friendly."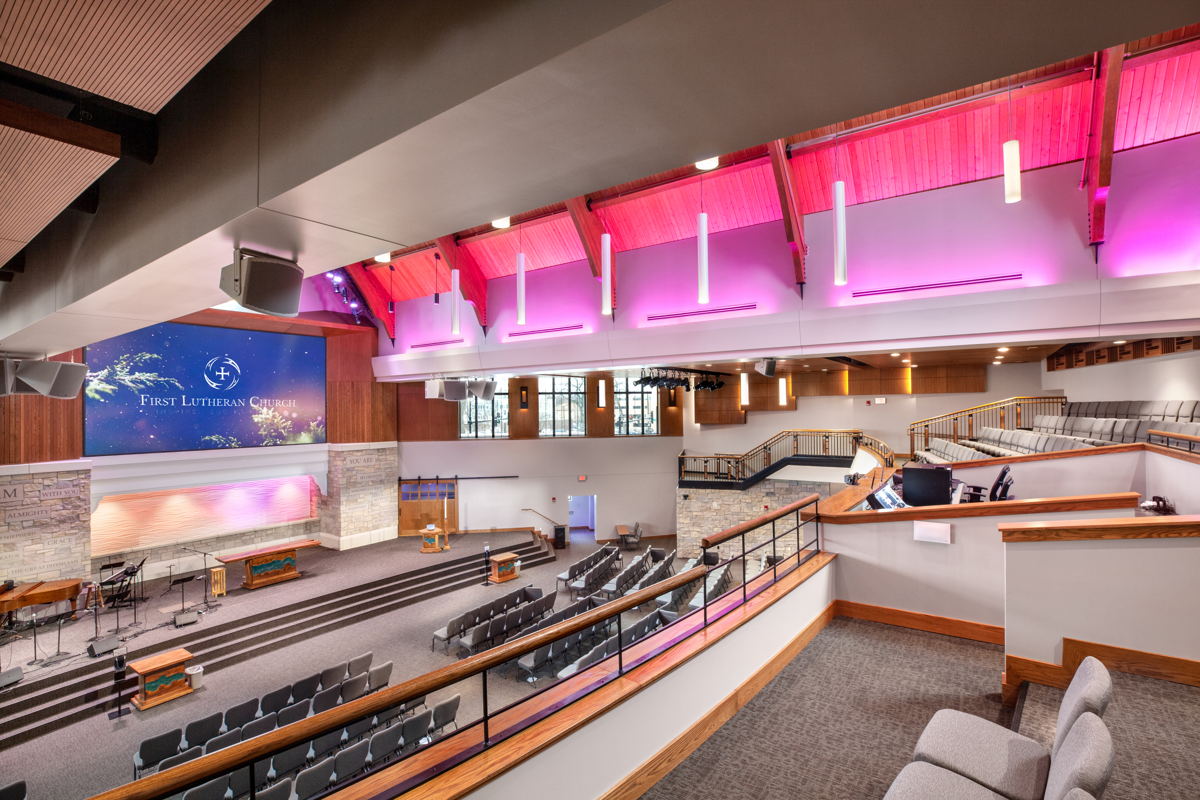 It's always good to be recommended for a project by a satisfied previous client, and we are grateful to Art Phillips for bringing us aboard the First Lutheran upgrade," WSDG founding partner John Storyk remarked. "We have consulted on many House of Worship assignments, they are frequently lengthy as was First Lutheran, but they are always gratifying. Fargo, North Dakota can be extremely proud of this church and its congregation. Their commitment to excellence has provided them with a wonderful and highly flexible new component, and we are delighted to have played a role in its evolution."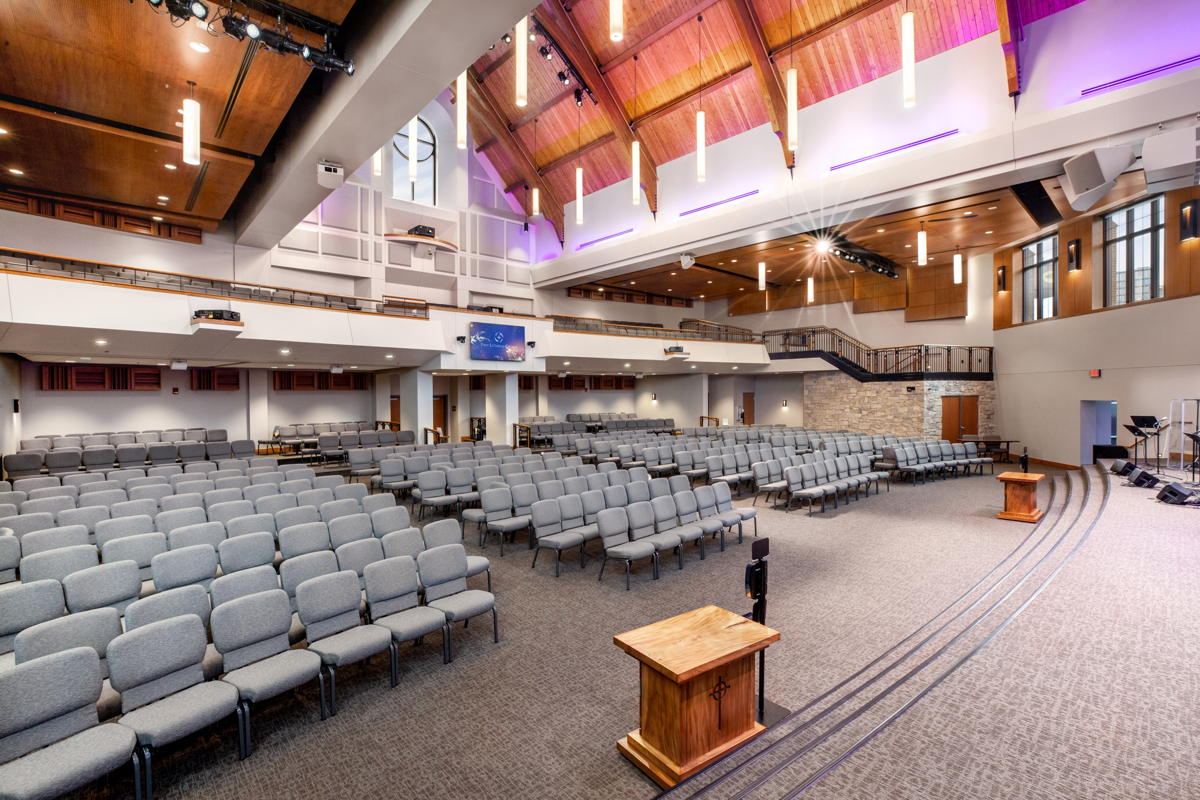 All photos by Jill Ockhardt Blaufuss: http://www.ockhardtphoto.com
For more information on First Lutheran Church of Fargo, ND, please visit: www.flcfargo.org
For more information about WSDG, please visit: http://www.wsdg.com/
For more information about Wild I CRG please visit: ​ http://www.wildcrg.com
For more Information on Tricorne Audio please visit: http://www.Tricorneaudio.com
Howard Sherman Howard Sherman Public Relations

Steve Bailey Public Relations, Hummingbird Media