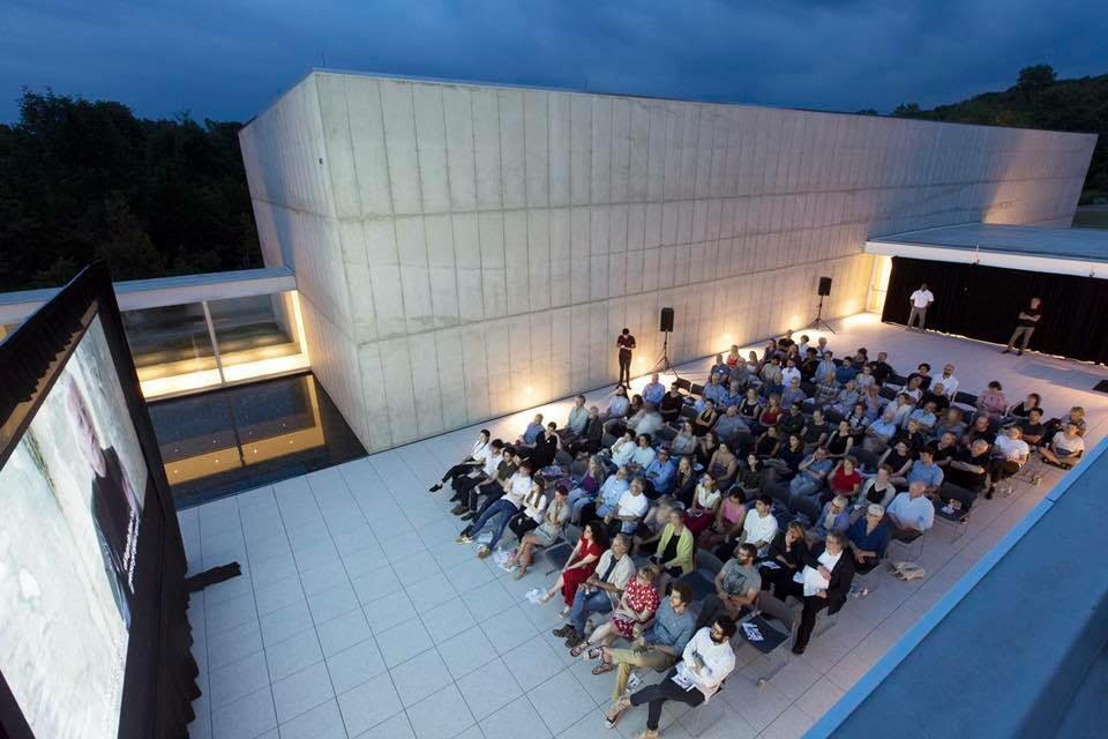 MAGAZZINO ITALIAN ART GALLERY BRINGS 'CINEMA IN PIAZZA' TO COLD SPRING, NY
WSDG Acoustics And Systems Integration Team Provides Flawless Sound And Video For Summer Evening Film Screenings
Wednesday, August 29, 2018 — COLD SPRING, NY: Early in the 00's, American art-collector Nancy Olnick, and her Sardinia-born husband, Giorgio Spanu found their extensive collection of modern art had grown beyond the collective capacity of their two homes. Unwilling to keep their larger works in storage; they began to explore options for sharing their collection with a wider audience of art aficionados. A search for a suitable repository for their 500+ work assemblage led them to a 14,000 square-foot steel and concrete former industrial warehouse (circa 1964) in Cold Spring, NY close to their Garrison, NY weekend home.
Olnick and Spanu purchased the building for $12 million, and retained the creative services of leading Spanish-born Architect Miguel Quismondo to create a spacious, light filled gallery to do justice to their collection. Quismondo in turn brought Alberto Campo Baeza, another noted Spanish architect on board to serve as NY-based Construction Manager and Project Liaison. Not coincidentally, Baeza had previously designed the Olnick/Spanu's Garrison home.
As the project neared completion, its mandate was expanded to include summer weekend International Art Film Screenings in the building's 3000 square foot courtyard. It soon became clear that a number of acoustic issues needed to be addressed. Leading local/global architectural/acoustical experts WSDG Walters-Storyk Design Group, were engaged last fall to recommend and integrate a complete tech package for the Magazzino Italian Art Gallery's 2018 Summer Cinema screenings. Nancy and Giorgio were introduced to WSDG and its founding partner, John Storyk by Jonathan Rose, a mutual friend from the Mid Hudson community who had worked with John years ago when WSDG were co-acousticians for NYC's Jazz At Lincoln Center venue.
WSDG Project Manager Jonathan Bickoff reports that he and Storyk performed several site visits in the fall of 2017. "We immediately recognized the primary audio issues confronting the museum. The rectangular courtyard was constructed entirely of hard reflective surfaces. This presented a number of acoustic challenges which needed to be resolved," Bickoff explains. "We took extensive acoustic measurements which guided us in developing a strategy for the film festival audio and any additional music presentations the museum might want to consider.
"As the project unfolded, Magazzino expanded the WSDG team's original design mandate to include the entire film/video system, its implementation and initial deployment," Bickoff adds. "The system package features a 12' high x 20' wide Draper Truss-Style Cinefold screen framed by 2' wide Black Velour skirting; an Epson PowerLite Pro L1405u projector and V12H004U03 ShortThrow Lens, seven QSC E12 Passive Speakers and two QSC KW 181 Subwoofers. We worked closely with Markertek of Saugerties, NY, a leading local pro audio-video supply firm, to create the most efficient, reliable and cost-effective technical system, in a compact, easy to set up and breakdown configuration. As it happened, the opening weekend Saturday evening screening was interrupted by an unanticipated thunderstorm. The system's portability was demonstrated when it was disassembled and moved indoors in under 10 minutes!" The system's flexibility was further confirmed the following week, when the entire evening's presentation took place INDOORS within one of the museum's large exhibition spaces. In an additional surprise WSDG, learned that each of the unique art film videos was produced in a different format creating, extremely challenging presentation issues. The problem was resolved by having WSDG engineering specialist, David Molho mix each film live using the system's remote audio mixing system.
"The Magazzino Italian Art Gallery is an important new asset to our community, and we were privileged to have been invited to apply our expertise to their film presentation needs," John Storyk remarked. "Their extensive art collection features works by many brilliant contemporary Italian artists. Nancy and Giorgio have made an exceptional commitment to raising the awareness of these artists and the Cinema In Piazza screenings exemplify their expanding commitment to this initiative. Magazzino is a welcome addition to an extraordinary group of Hudson Valley Art Destinations that includes the Storm King Art Center and Dia: Beacon. We are extremely fortunate to have them as friends and neighbors."
Howard Sherman Howard Sherman Public Relations