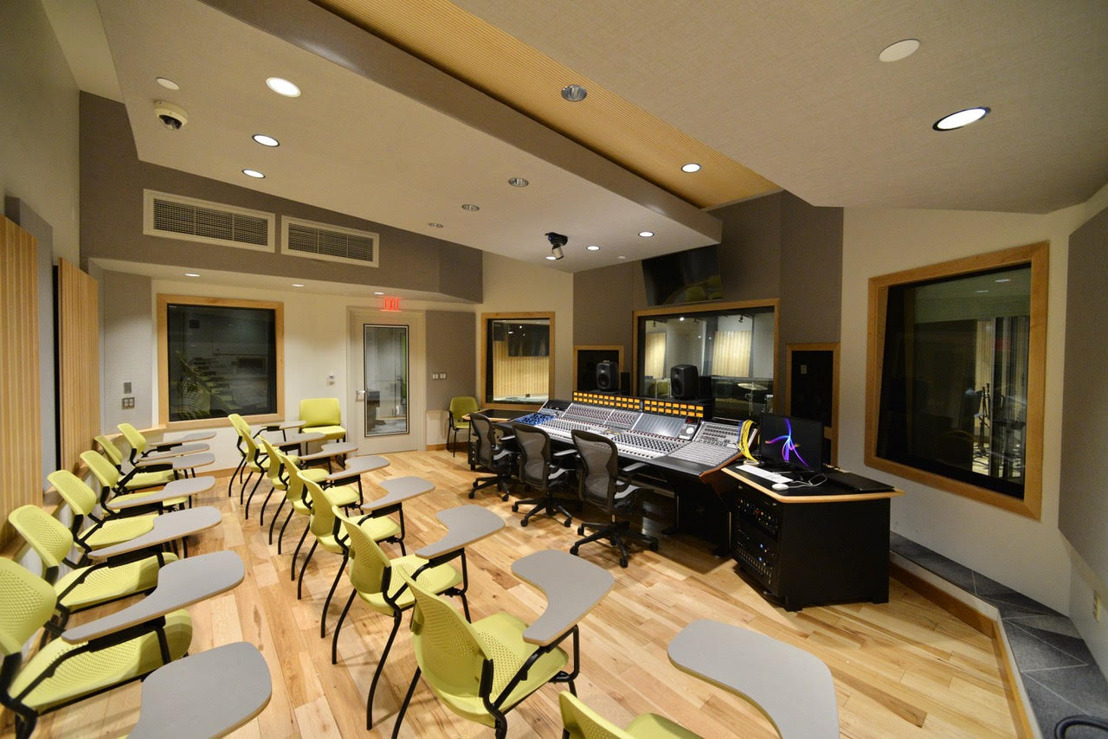 Reaching New Heights in Design for Higher Education: WSDG Facilities Mold Tomorrow's Audio Professionals
Monday, March 19, 2018 — Global architectural acoustic consulting firm WSDG (Walters-Storyk Design Group) has established itself as the 'first call' for designing prestigious studios, venues, and other facilities over the last several decades. But in addition to the many commercial studio designs that have helped establish the firm's reputation and primacy, WSDG has also designed facilities for prestigious colleges and universities such as Berklee College of Music, NYU, and more recently Concordia College, Drexel University and many others.
While the firm's earliest clients in the education sector were among the first in academia to offer degree programs in recording and production, an ever-growing demand for training in these broadening fields has sparked many such programs at institutions around the country. Now, more and more of these institutions are reaching out to WSDG to craft acoustically and aesthetically refined workspaces for students to hone their mastery of the art and science of recording.
"I remember when crafting state-of-the-art studio designs for higher education facilities was still something of a novelty," says WSDG Founding Partner John Storyk. "As the industry has continued to evolve however, young people who are interested in a variety of career opportunities have recognized the importance of cultivating a commercially-viable skill set at the college level. It's no surprise that a world-class design infrastructure can help facilitate student development, leading to greater employment opportunities and demand in the education market — and for us, more and more high profile projects."
Drexel on the Move
Storyk is not alone in observing an increased demand for education in the ways of the recording studio. Drexel University faculty, observing the ever-growing popularity of the school's Music Industry Program, sought a firm to design a new 2,500 square-foot production facility to better accommodate student education requirements. "We recognized the need to expand our recording, mixing, and production facility to effectively support the two tracks of our popular Music Industry programs—Recording Arts & Music Production and Music Business," says Allen Sabinson, dean of Drexel's Westphal College of Media Arts & Design.
In the spring of 2017, Drexel launched a fundraising campaign for its 21st -Century audio production and education complex, generating $4.5 million for the project. Drexel used a portion of those funds to contract WSDG to design the new space. WSDG Partner/Project Manager Romina Larregina crafted designs for a flagship studio of 1,500 square feet, a post-production control room, two 1,000 square-foot midi labs, a spacious student lounge, and a unique archive suite as part of the new facility. The resulting complex is something Drexel faculty feels is truly worthy of training tomorrow's engineers, producers, and recording artists.
"From day one our students revealed a passion for the industry and an appreciation for the straightforward knowledge we share with them," says Director/Associate Professor Music Industry Jim Klein. "Our new facility is designed to immerse them in a literal rather than a virtual environment."
Concordia in Harmony
Concordia University Irvine is among the most recent institutions of higher education to turn to WSDG to prepare an acoustically optimal learning environment to accommodate students. WSDG designed a new 1,100 square foot professional recording studio for CUI's Music, Worship & Theology building. Inspired by Concordia's proximity to the Los Angeles music industry, the space is intended to provide students, professors, and artists with a facility that mirrors the top industry recording environments in the nearby metropolis. The new facility's grand opening coincides with the university's newest degree program: Commercial Music. This line of study prepares students for careers in musical performance, songwriting, composing for media (TV, film, and gaming) and music production.
Utilizing the latest technology to maximize acoustic performance, WSDG design engineers are turning to acoustic modeling measurement, instrumentation tests and programs to predict and pre-tune individual rooms' acoustics and auralization in the new 1,100 square foot recording studio and throughout the 37,500 square foot Music, Worship & Theology building. The new facility will be completed in spring, 2019.
Montgomery County's Cutting-Edge Community College
Pennsylvania's Montgomery County Community College (MCCC) has been experiencing a similar surge in demand for its Digital Music Technology Course and Sound Recording and Music Technology (SRT) degree program, which was first initiated in 2015. The university's SRT director, Michael Kelly, quickly realized that a larger facility was needed to meet the demands of the student body.
WSDG was Kelly's first call once he and his colleagues had compiled their hopes and dreams for a new state-of-the-art control room/mixing suite. On this project, WSDG's Larregina worked closely with MCCC staff to design and precisely configure the 450 square-foot fully-isolated control room. The completed design also includes a 100 square-foot isolation booth, 70 square-foot sound lock, 110 square-foot green room and 150 square-foot storage / equipment closet. Kelly is excited about the possibilities for his students in the new space. "Bringing this idea to reality with WSDG has been an amazing experience," he says.

Ahead of the Game at RPI
As audio technology grows and evolves, so to do the needs of the leading educational institutions that provide training in the field. Rensselaer Polytechnic Institute (RPI) is the world's 3rd highest ranked research college, so it comes as no surprise that the institution is a leading player in the emerging field of 3D immersive audio and video production. To design this addition to RPI's Media Arts, Science & Technology integrated media environment, the Institute turned to the trusted name of WSDG.
For WSDG, the upgrade included the renovation of a 1,700 square foot audio recording and production studio as well as the design, construction supervision and systems integration of a 1000 square-foot audio recording/production studio, a cutting edge 300 square-foot audio control room, a 100 square-foot iso lab, a 160 square-foot video control room and a 90 square-foot AV lab.
The Immersive Production Complex is uniquely designed to provide students with a future-proofed experimentation environment and is intended to further the Institute's commitment towards advancing the creation, performance and production of 3D immersive media. Special attention during the design process is being focused on the facility's variable acoustic properties, to compensate for the 'deader' tracking environment required by immersive production techniques. The project is also intended to open up collaboration opportunities with the university's Experimental and Performing Arts Center and Cognitive Immersive Systems Lab.
The Learning Continues
Numerous design commissions for institutions of higher education are already in the pipeline for WSDG, including an ambitious recording and teaching facility at Zhejiang Conservatory of Music in China. The entire WSDG team is excited by the unique challenges these projects present. "Classes and degree programs in recording and production are intended to prepare students for professional success within the field at the highest levels," says WSDG Partner Sergio Molho. "That's why we bring the same care and expertise to our studio designs for educational institutions that we do to the many professional studios that we design. If you're cutting your teeth in a space we've designed, you are sure to feel right at home at any one of the many major facilities around the world that bear our mark."
Jeff Touzeau Public Relations, Hummingbird Media, Inc.