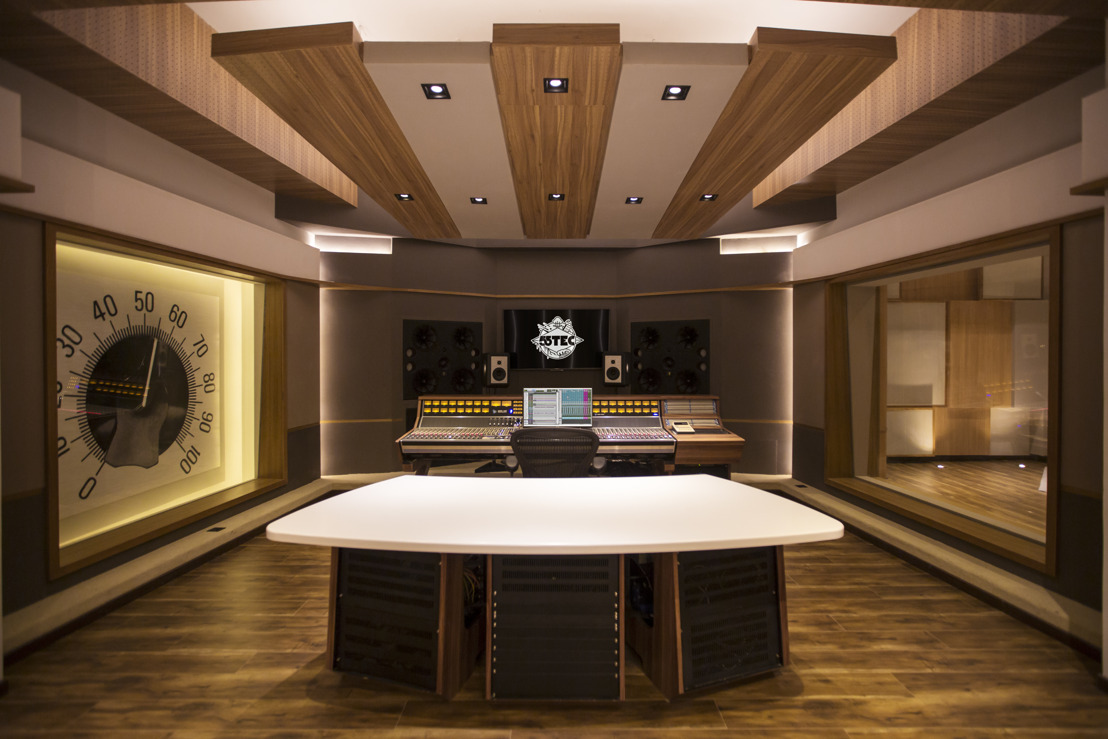 The New Breed: Beijing's 55TEC Studio Leading the Charge for Artist-Driven Recording Studios in China
WSDG Designed Studio Ground Zero for Chinese Pop Chart Success
Tuesday, September 25, 2018 — BEIJING, CHINA– From Jimi Hendrix's Electric Lady Studios in New York City to Grammy-winning producer Paul Epsworth's The Church Studios in London, the artist-driven recording studio is an integral part of popular music. Vibrant spaces designed with the artist in mind, studios like these have become commonplace in North America and Europe where the shared appetite for popular music has created something of an arm's race as each studio tries to pack in the latest technology and attract the best artistic talent. A name that may soon be added to this list is Beijing's 55TEC, a brand new studio that is currently dominating the Chinese pop charts with a string of chart topping hits and is turning China's recording industry into a global competitor.
55TEC, designed by the world renowned acoustic design firm WSDG (Walters-Storyk Design Group, a shared ingredient for all of the aforementioned studios), is answering China's appetite for pop, an appetite that has been pushed into overdrive by their growing young population and recent economic strides into cosmopolitan status. The studio has boasted almost 30 charting singles in its first 18 months of operation and is showing no sign of slowing down. Their latest triumph is a song by action movie superstar Jackie Chan, which has currently spent 18-weeks at #1 on the Chinese pop charts. Chan's hit song, Nothing Is The Same As Before, has become a compelling calling card that is drawing new talent to 55TEC.
"For the artist, the choice of recording studio is crucial," explains Li You, head engineer and owner of 55TEC, "They need a place that inspires their performances and makes them feel like they can do their best work." When it came time to design 55TEC, the choice of who to contract was obvious. WSDG, a New York based firm which has built its reputation on sterling room design in recording studios and live performances spaces across the world, was at the top of You's list. "WSDG knows how to make a world class studio," he explains, "And our clients have been very pleased with the look, sound quality, and vibe of our live and control rooms. This is all due to WSDG's design work."
If the runaway success of the tracks recorded at 55TEC are any indication, the studio seems poised to be a major player in not just China's music industry, but that of the world at large.
ABOUT WSDG, LLC
WSDG has designed nearly 4000 media production facilities worldwide. Projects range from Jimi Hendrix's Electric Lady Studio and Jazz At Lincoln Center in New York, to broadcast facilities for The Food Network, CBS and WNET, over twenty teaching studios for The Art Institutes, and corporate clients such as Sony, IBM and Novartis. Recent credits include Jungle City in New York, The Church Studio, in London, private studios for Green Day, Jay-Z, Bruce Springsteen, Alicia Keys and Academy Award-nominated film composer Carter Burwell. WSDG has collaborated with such noted architects as Frank Gehry, Philippe Stark, Rafael Viñoly, Santiago Calatrava, Grimshaw, and Norman Foster. An eleven-time winner of the prestigious pro audio NAMM TEC Award for outstanding achievement in Acoustics/Facility Design, WSDG maintains U.S. offices in New York, San Francisco and Miami and global offices in Barcelona, Basel, Beijing, Berlin, Belo Horizonte, Buenos Aires, Mexico City and Mumbai.
Steve Bailey Public Relations, Hummingbird Media
Jeff Touzeau Public Relations, Hummingbird Media, Inc.