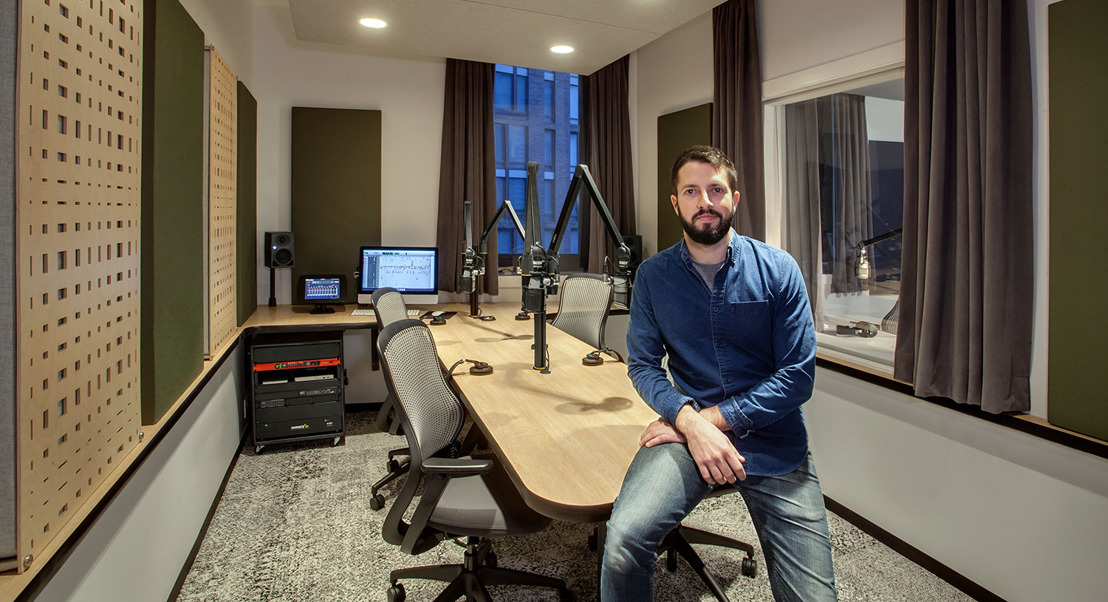 World Class Podcasting and Streaming Audio Facilities Taking Root in NYC
Leading Global Facility Designer WSDG Completes Audible, Midroll / Stitcher & Gimlet Media Studios For Fastest Growing Broadcast Category
Thursday, January 31, 2019 — New York, NY, February 7, 2019 — Audible, Midroll / Stitcher, and Gimlet Media have mushroomed into the biggest names in the podcasting and audio entertainment industry. Though each specializes in their own unique content, they all share two commonalities: their ultra-modern headquarters are all based in the greater New York Metropolitan Area and each was designed by New York-based acoustic consulting / A/V integration firm WSDG Walters-Storyk Design Group. Purposefully crafted all-in-one spaces, each studio enables these companies to pursue content creation at a speed, quality, and magnitude that is setting a new standard for both the podcasting, streaming and traditional broadcast industries.
All three studios are part of a larger trend in podcast production growth. According to a recent report by Edison Research, more than ¼ of all Americans listen to podcasts on a monthly basis. The demand for a constant flow of new, high-quality content has been consistent and unrelenting, and WSDG has become the supplier of choice for its biggest names.
"We first worked with Audible in 2007 and designed the initial studios for Audible's Newark, NJ facility." says WSDG Project Manager Romina Larregina. "In late 2015 when the company's growing production schedule required a substantial facility expansion, they brought WSDG back on board. Our company was tasked with turning a 2,400 sq. ft. corner section of their headquarters building into a studio and control room, while adding dedicated isolation booths, a comfortable 'green room', and related support space."
Close on the heels of the Audible assignment, WSDG was commissioned to design production facilities in Manhattan for leading podcast advertising network Midroll/Stitcher, as well as a new 28,000 square foot production space in downtown Brooklyn for award-winning narrative podcasting company Gimlet Media. Both projects replaced pre-existing spaces saddled with sonic and space-related challenges. "Each company had different requirements based on the specifics of the media that they produce," Larregina explains. "It is extremely interesting and reaffirming to play a role in this emerging sector of studio design, which didn't really exist just a few years ago."

While these studios are designed to excel in acoustic performance, they also feature world-class interior design and aesthetic qualities. Each was designed to be comfortable and inviting for both staff and celebrity guests, while integrating collaborative spaces and an abundance of light. Sylvia Molho, Interior Designer at WSDG, specified earth tones and natural wood treatments wherever possible, making each facility warm, inspiring and visually inviting.
"WSDG has been following the growing impact of podcasts and streaming media, and we are thrilled to be designing facilities for the leading players in this rapidly expanding sector," WSDG partner Sergio Molho concludes. "As always, we gravitate towards projects that demand acoustic excellence, superior integration and high-end aesthetic values."
Jeff Touzeau Public Relations, Hummingbird Media, Inc.
Steve Bailey Public Relations, Hummingbird Media