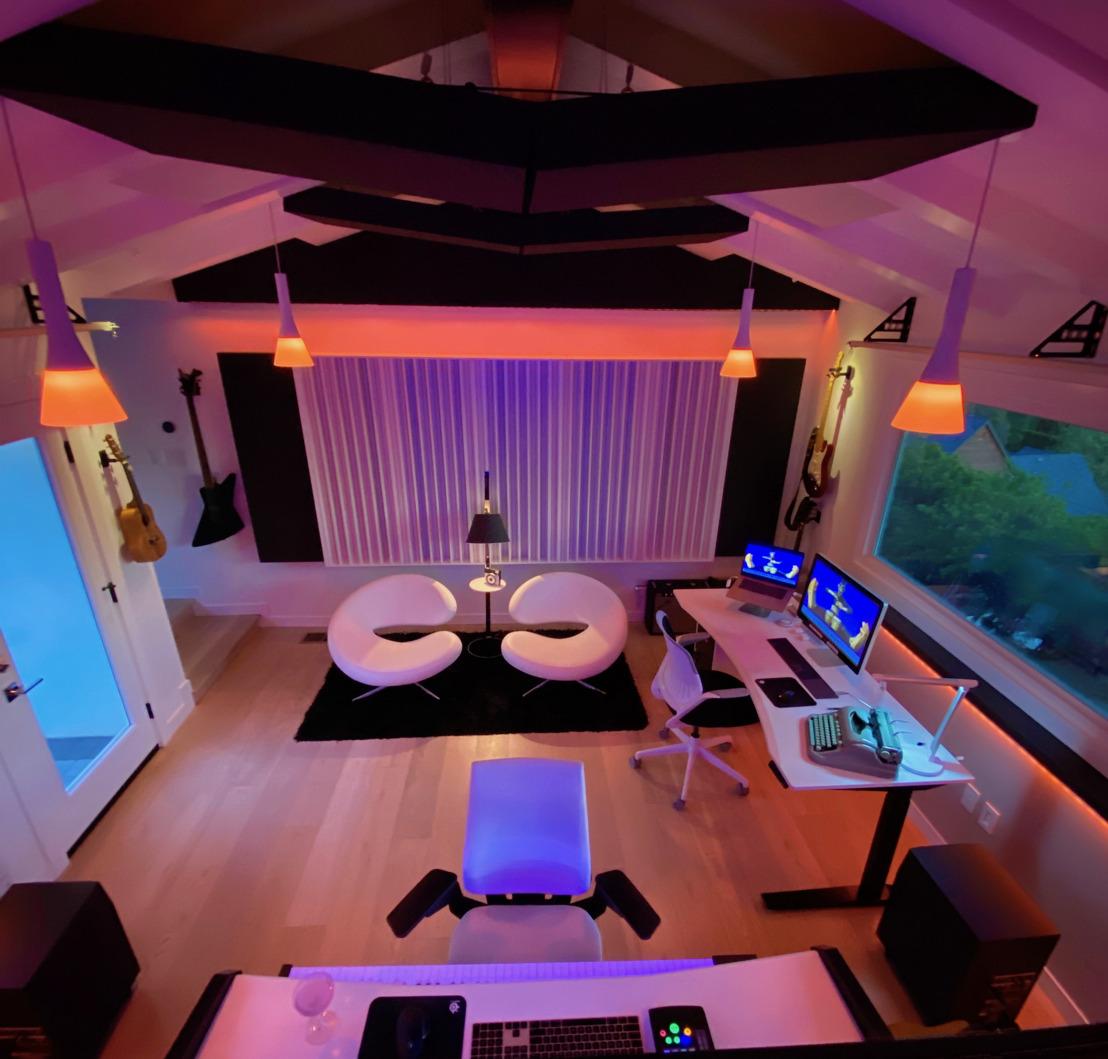 WSDG Completes Private Studio for Composer/Producer Scooter Pietsch
Global architectural acoustic consulting and design firm brings serene design and flawless isolation to ScooterMusic in LA's Studio City hills
Los Angeles, CA, July 29, 2021 -- ​ Emmy-nominated composer/playwright, novelist, musician and TV producer, Scooter Pietsch (pronounced peach) has created film and television music across the media landscape. ​ Pietsch's underscores, themes and original songs have graced thousands of TV series episodes including ABC Family's Pretty Little Liars, USA Network's Burn Notice, USA 's All Dogs Go To Heaven and E!'s Keeping Up with the Kardashians. ​ Recognizing the fact that he no longer needed a 2000 sq. ft. recording studio and having met WSDG founding partner, John Storyk via their mutual friend, Tony-winning Sound Designer, Nevin Steinberg (Hamilton, Dear Evan Hansen) Pietsch decided to build a new 350 sq. ft. studio in a building attached to his new ​ Studio City home.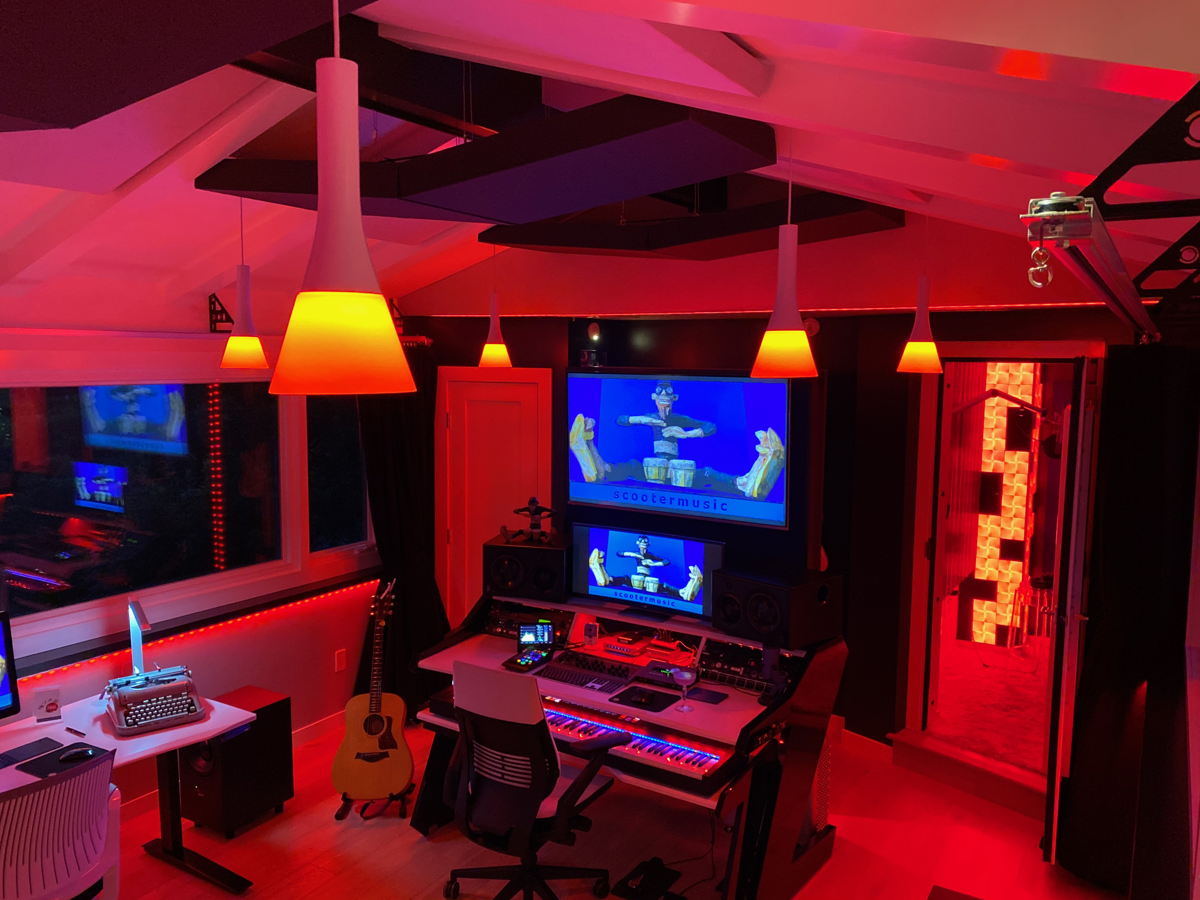 Engaging WSDG to design his new studio, Pietsch hosted an early 2019 on-site visit by WSDG Partners/Project Manager, Matthew Ballos and Acoustic Engineer, Andy Swerdlow. ​ ​ Extrapolating a concrete design program from their findings, the team soon provided Pietsch with a floor plan and presentation drawings that maximized the production, recording, mixing and listening potential of his studio site. ​ Pietsch and his three-man construction team went to work on the studio build-out, framing, sheet-rocking the CR/ composing room and fully isolating the compact vocal booth. ​ In early 2020, the ScooterMusic Studio was session ready.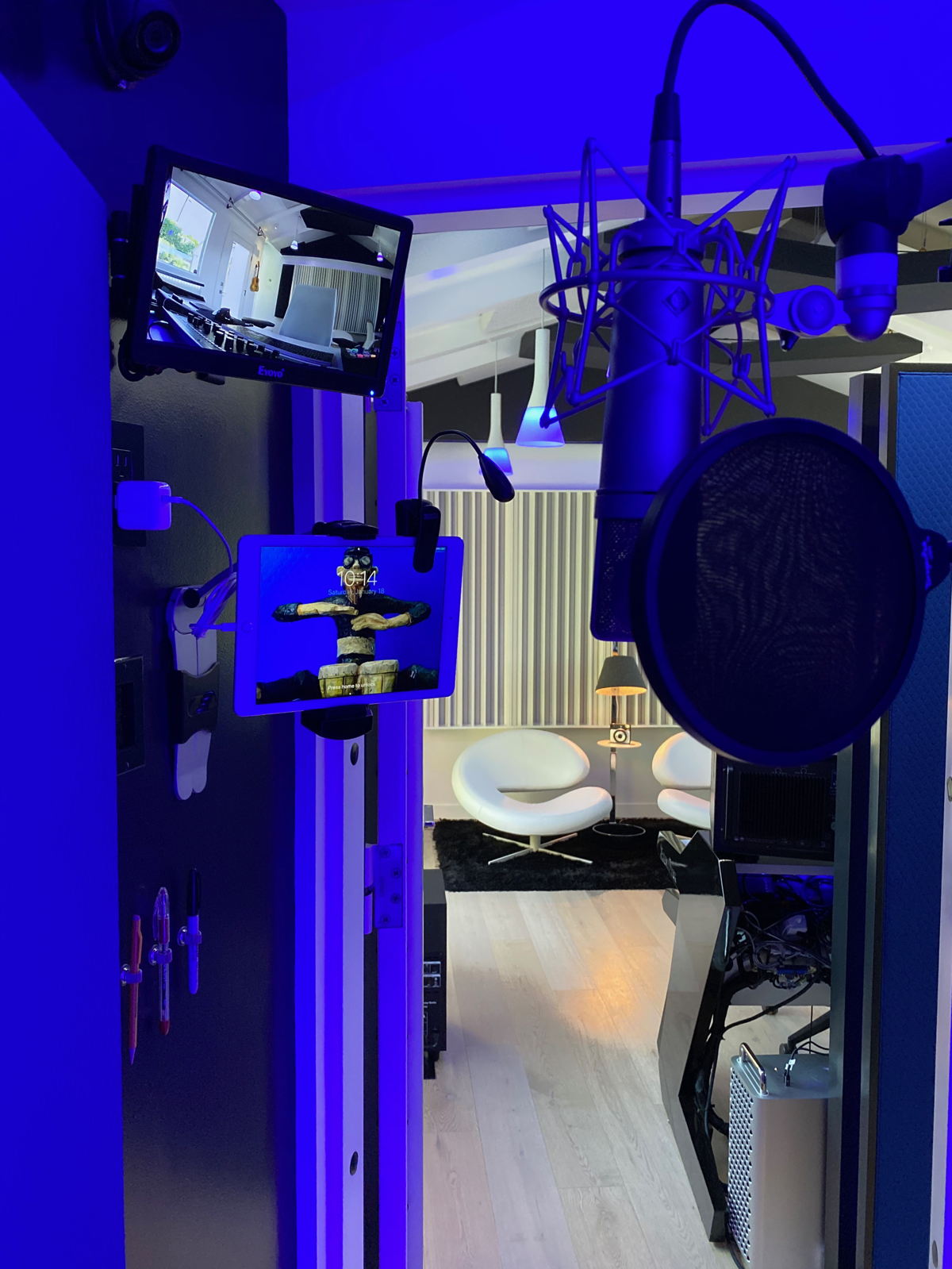 "I wanted to create something very different from my previous studio," Pietsch explains, "Not just in size, but in look and feel. ​ I went with a clean modern all white look. ​ The lighting is Philips Hue smart lights, and white is the absolute best surface to reflect color. We also installed Nanoleaf Canvas lights in the vocal booth, which although small, is completely floated and thanks to some clever workarounds eliminates the need for a music stand or floor-standing mic. The ability to change lighting moods in sessions is always a fun/creative way to inspire the work. We also deployed a camera in the main room so singers can maintain eye contact with us on a monitor and vice versa. Music and lyrics are displayed via iPad. ​ In contrast to my previous facility, this new studio is attached to the house, a whole other thing to get used to. But, thanks to WSDG's meticulous soundproofing and construction design, my near 100db doesn't bother anyone."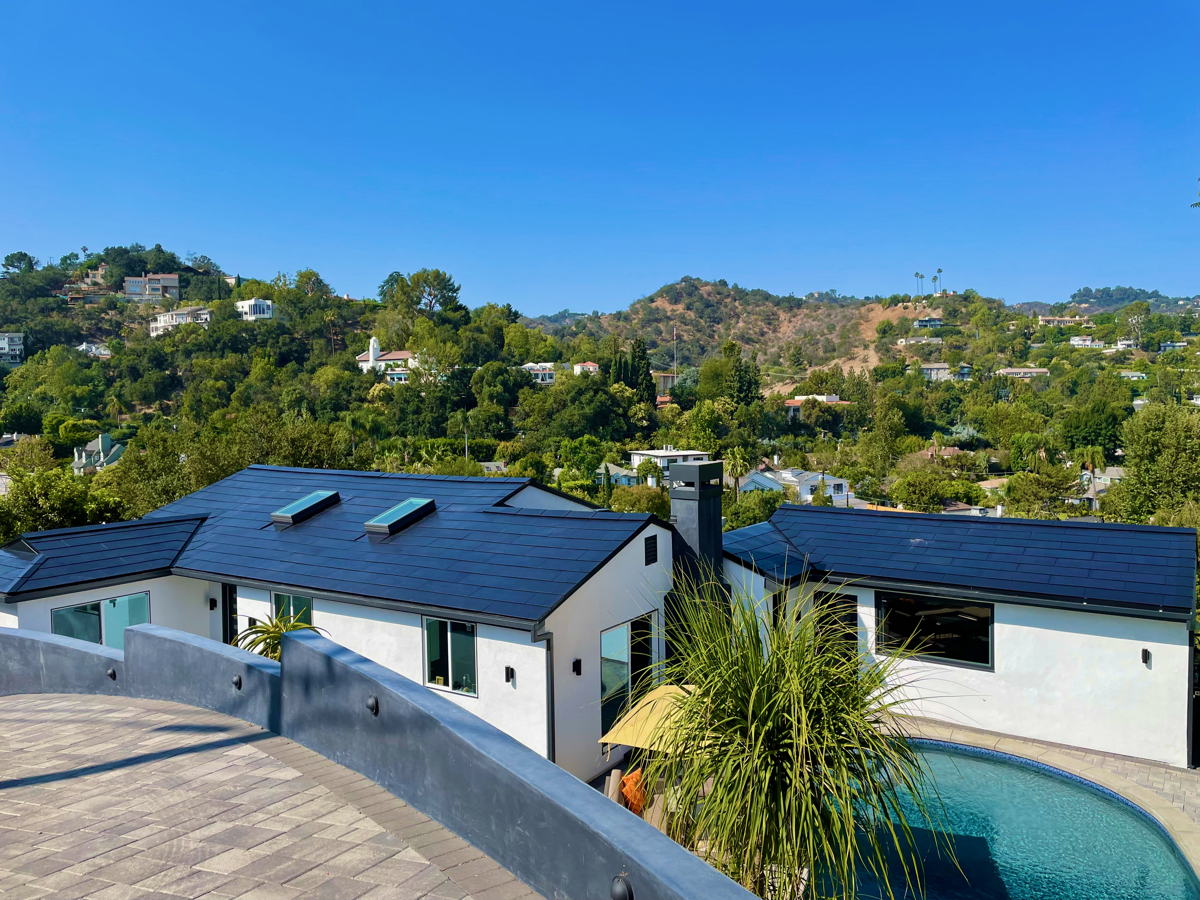 The size of Pietsch's new ScooterMusic Studio dictated minimal space for outboard gear. ​ He installed ATC SMC25A monitors with Adam Sub10 MkII subwoofers, two Brent Averill vintage Neve 1073 mic preamps for all vocals, guitars, basses etc. A UAD Apollo X4 serves as the audio interface. A 2019 Mac Pro 3.2 Ghz 16 Core Intel Xeon with 128GB RAM drives the ship.
"In addition to a wide range of film and TV programming underscore and theme composing, I write and produce songs with other artists and also do a considerable amount of theatrical playwriting and musical composing. I needed a truly flexible production environment and that's exactly what I got," Pietsch says.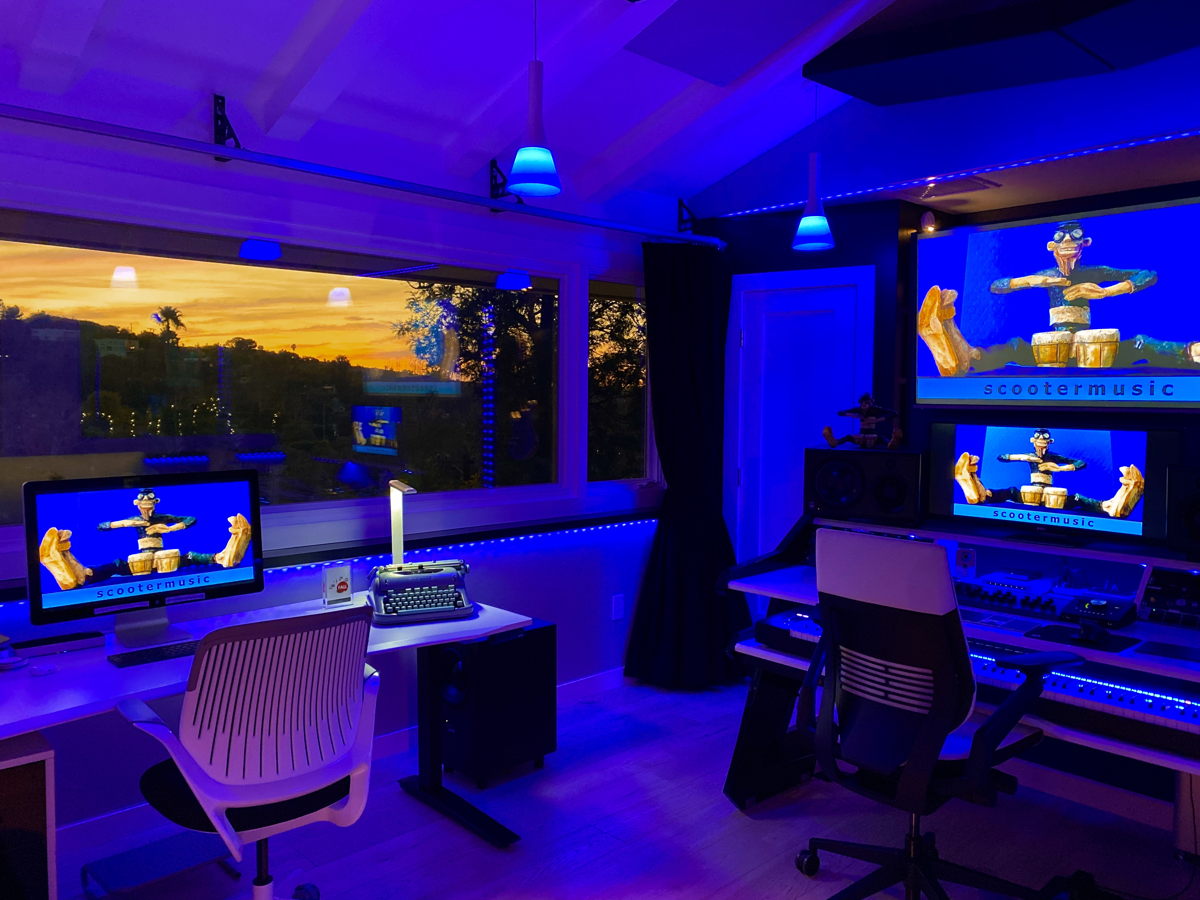 WSDG partner/project managers Matthew Ballos and Andy Swerdlow collaborated remotely from the firm's Highland, NY office on the studio's acoustic plan. ​ They specified the installation of six custom 'split joist' suspended ceiling clouds and six additional clouds flush mounted to the sloping ceiling walls. ​ "This studio is unique from a number of perspectives," Ballos remarked. ​ "Situated in the hills above LA's Studio City, it's graced by large picture windows providing amazing pool and neighboring hillside views and brilliant natural light." Swerdlow adds, "The studio building was skillfully sighted not only from the view perspective, but also to provide a surprising sense of isolation even though it's in the midst of a densely populated area. ​ ​ Scooter's construction team did a terrific job, and because they adhered scrupulously to our acoustic plan they created a warm, tight room that sounds exactly the way we envisioned it."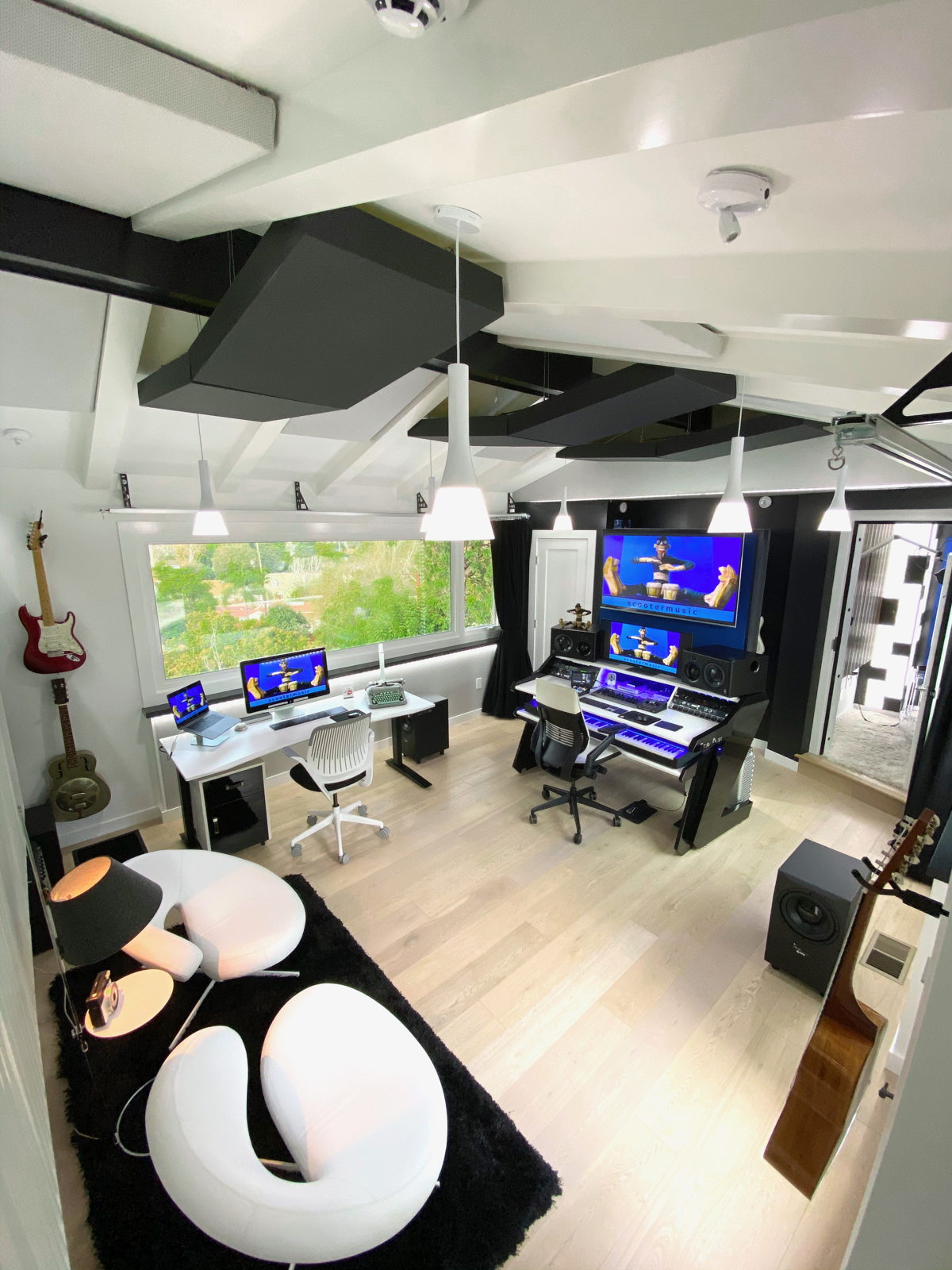 In June 2022, WINDFALL, a new play by Scooter Pietsch will be produced at Sag Harbor, NY's Bay Street Theater. ​ Originally directed by Jason Alexander, the comedy premiered in a sold out 2016 run at The Arkansas Repertory Theater. ​ Productions of earlier Pietsch plays include performances by Tony & Emmy-winning star Bryan Cranston.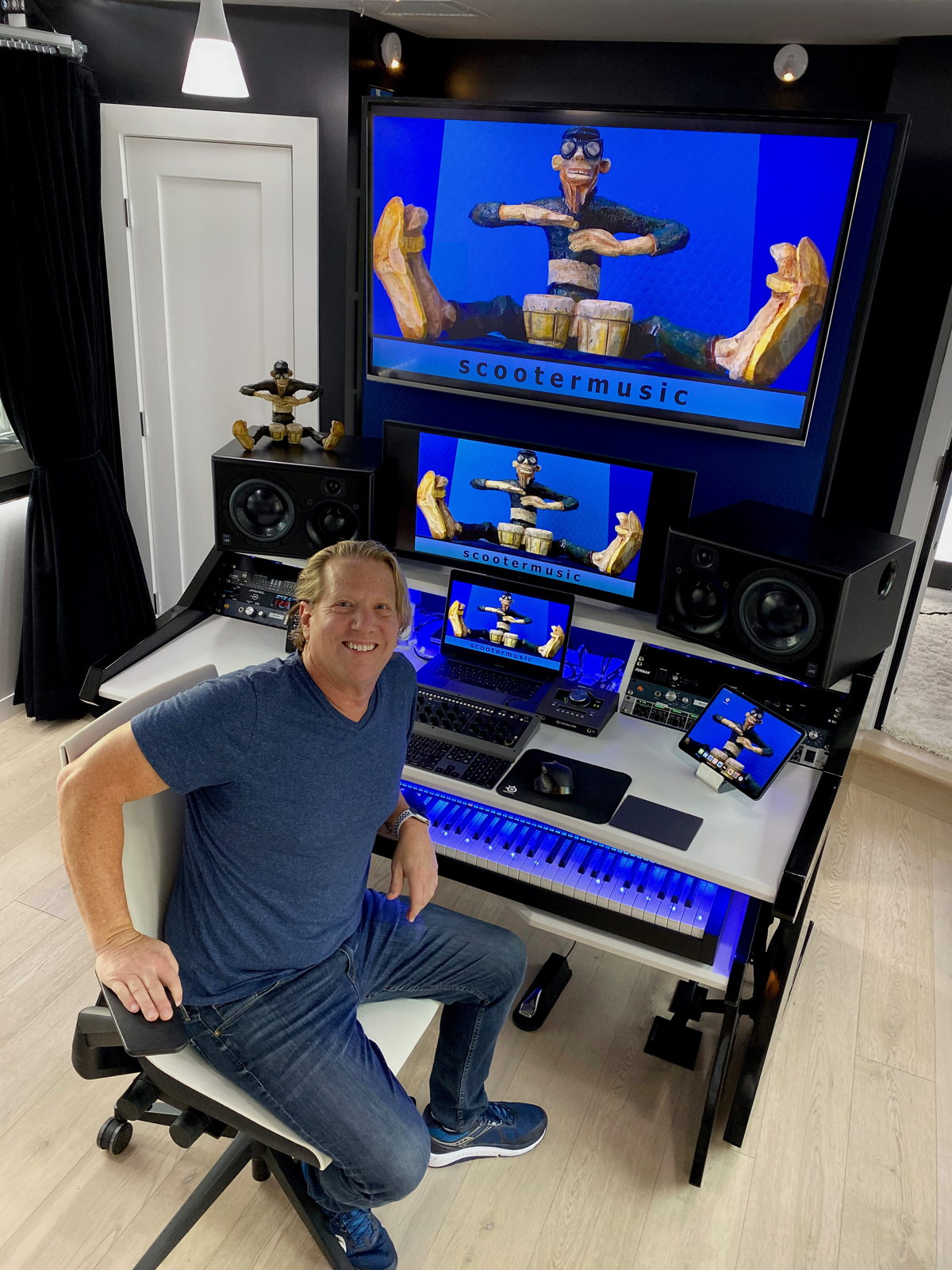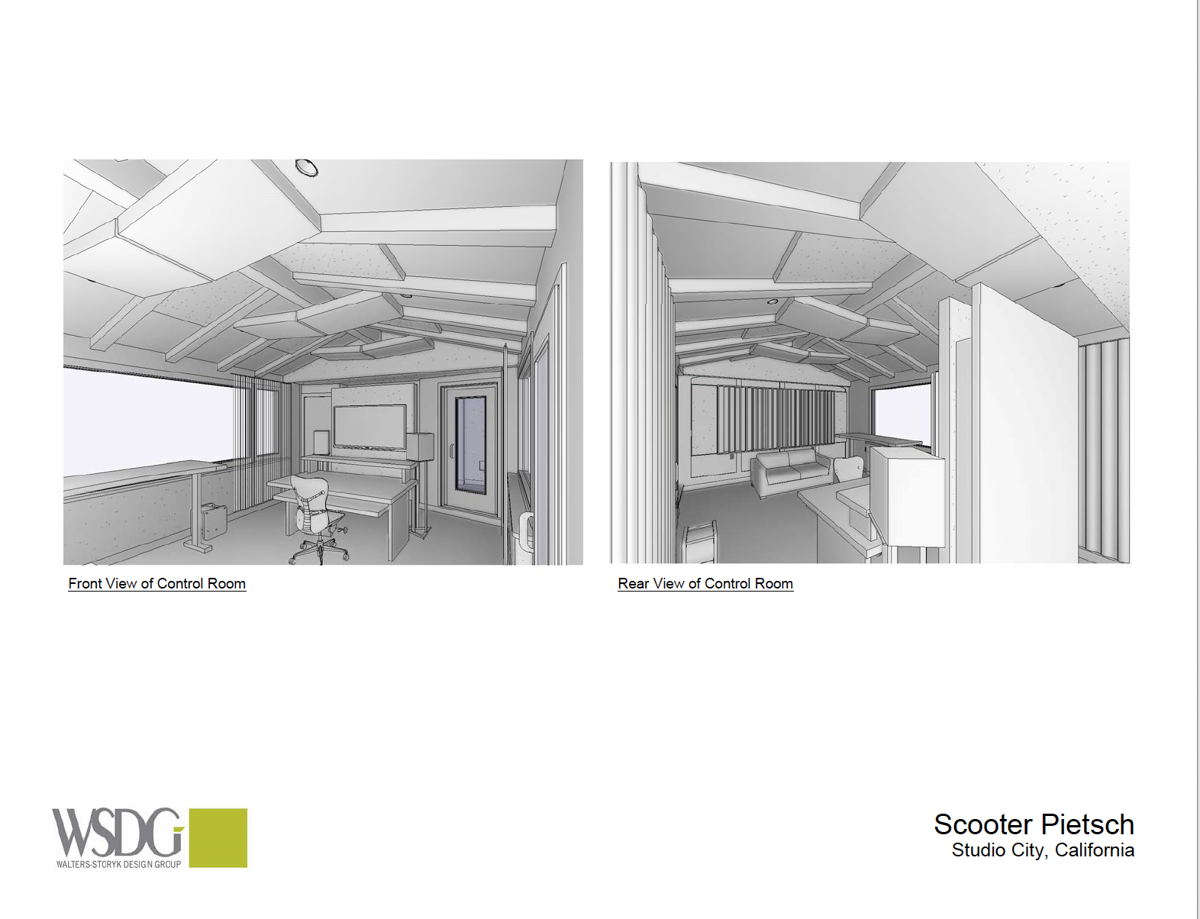 Photos by Beth Toussaint Coleman https://www.instagram.com/bethtcoleman/
For more information about Scooter Pietsch, please visit: http://www.scootermusic.com/
For more information about WSDG, please visit: http://www.wsdg.com/
ABOUT WSDG, LLC
​For over 50 years, acoustic consulting and A/V integration firm WSDG has designed nearly 3,500 media production facilities worldwide and counting. Projects range from Jimi Hendrix's Electric Lady Studio and Jazz at Lincoln Center in New York, to broadcast facilities for The Food Network, CBS and WNET, over 20 teaching studios for The Art Institutes, and corporate clients such as Sony, IBM and Novartis. Recent credits include Jungle City in New York, The Church Studios in London, private studios for Green Day, Jay-Z, Bruce Springsteen, Alicia Keys, Jack Antonoff, J Cole, Harry Connick Jr., and Academy Award-nominated film composer Carter Burwell. WSDG has collaborated with such noted architects as Frank Gehry, Philippe Stark, Rafael Viñoly, Santiago Calatrava, Grimshaw, and Norman Foster. An 11-time winner of the prestigious pro audio NAMM TEC Award for outstanding achievement in Acoustics/Facility Design, WSDG maintains U.S. offices in New York, Washington, DC, San Francisco and Miami and global offices in Barcelona, Basel, Berlin, Buenos Aires, Guangzhou, Mexico City and Mumbai.
Howard Sherman Howard Sherman Public Relations

Steve Bailey Public Relations, Hummingbird Media