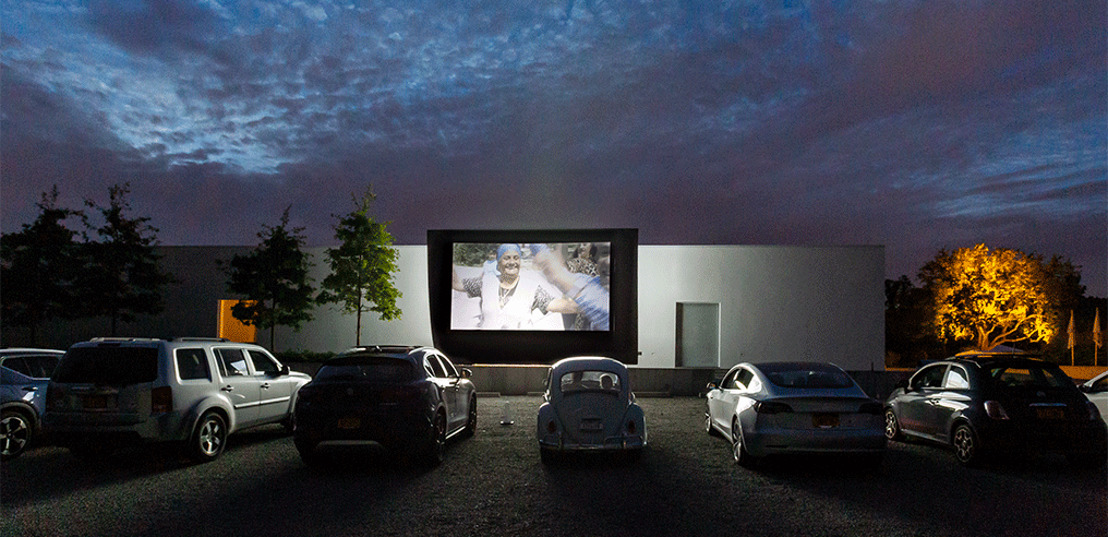 WSDG Fine-Tunes Drive-In Theater for Magazzino Italian Art 'Cinema In Piazza' Summer Film Screenings
Global architectural acoustic design firm implements FM broadcast system for successful, socially distanced event series
Cold Spring, NY, August 14, 2020 -- The Magazzino Italian Art Museum has held its 'Cinema In Piazza' Summer Film Screenings since it first opened in 2017. When the COVID-19 pandemic threatened to cancel the ongoing event, museum co-founders Nancy Olnick and Giorgio Spanu devised an impromptu drive-in theater in their parking lot, and brought in architectural acoustic consulting and design firm WSDG to ensure that the screening attendees could enjoy the full experience of the films from the comfort of their vehicles.
WSDG's services had originally been retained by the museum owners to optimize Magazzino's outdoor courtyard with an integrated sound system and acoustic tuning, giving the museum the ability to host a wide array of live events in the outdoor space. The popular screening series allowed the museum to include cinematic content in their collection, showcasing both classic and contemporary Italian films for the gallery's loyal patrons. "Magazzino is an important asset to the Hudson Valley arts community," explained WSDG Founding Partner John Storyk, "We've always been fortunate to have them as friends and neighbors, and it's been our privilege to help facilitate these programs."
As it became clear that it would be impossible to hold the screenings as planned while still respecting safe social distancing guidelines during the ongoing pandemic, the museum owners turned to the WSDG design team to devise a solution that would allow them to continue. "We wanted to ensure that we could organize an event that could be both safe and successful," explained WSDG Project Manager Pietro Gennenzi. "Since the courtyard was not an option, we decided to transform the parking lot into a drive-in theater. This allowed us to continue the screenings while still respecting COVID-19 safety guidelines."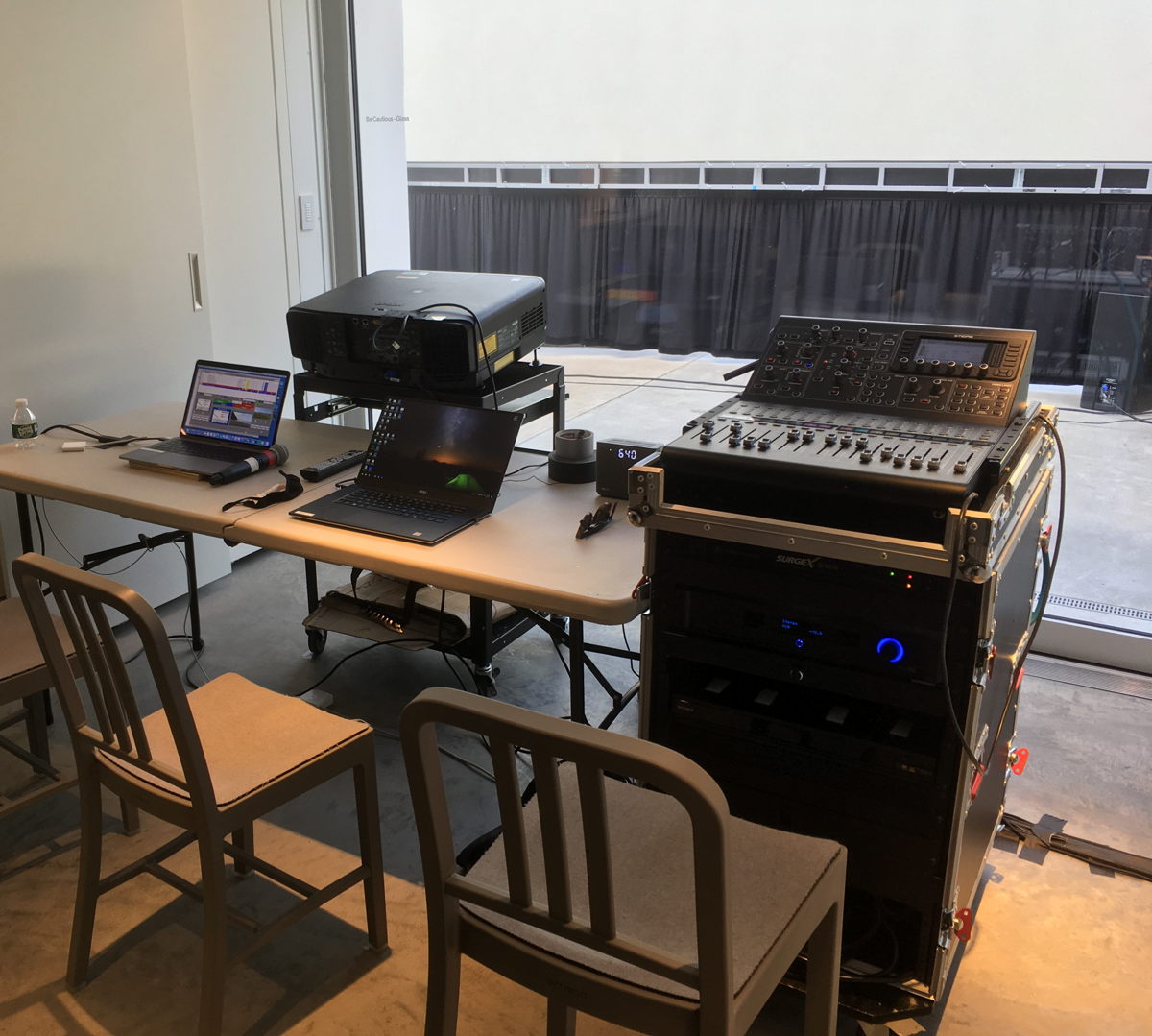 Once the museum's 276" rear-projection screen had been installed in the gallery parking lot, WSDG employed an FM radio broadcast system to feed the audio to the attendee's vehicles, thus allowing them to stay safely in their cars while still enjoying the full cinematic experience. In the rare instance that attendees didn't have access to a car stereo, the museum also provided sanitized portable radios and headphones. The implementation was an immediate success. "We had thirty cars at the first event and the quality of the audio from the FM feeds was excellent," Gennenzi said. "Everyone was able to enjoy the show."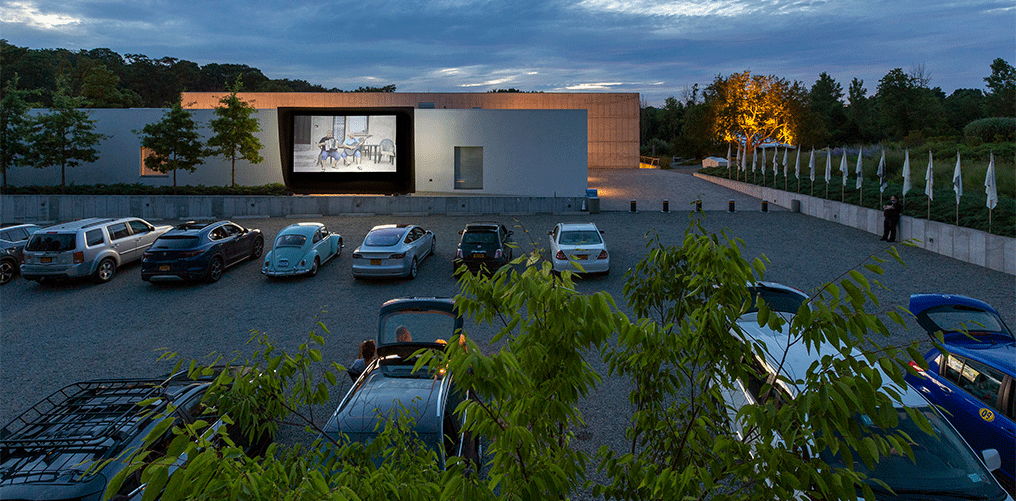 The screening series continues on Saturday, August 15th with Director Andrea Mastrovito's I Am Not Legend. Tickets are $30 per car and benefit RxART, a nonprofit organization whose mission is to help children heal through the extraordinary power of visual art."
Tickets are available via Eventbrite here. No tickets will be sold at the door.
For more information about Magazzino Italian Art, please visit: http://magazzino.art/
For more information about WSDG, please visit: http://www.wsdg.com/
ABOUT WSDG, LLC
​For over 50 years, acoustic consulting and A/V integration firm WSDG has designed nearly 3,500 media production facilities worldwide and counting. Projects range from Jimi Hendrix's Electric Lady Studio and Jazz at Lincoln Center in New York, to broadcast facilities for The Food Network, CBS and WNET, over 20 teaching studios for The Art Institutes, and corporate clients such as Sony, IBM and Novartis. Recent credits include Jungle City in New York, The Church Studios in London, private studios for Green Day, Jay-Z, Bruce Springsteen, Alicia Keys, Jack Antonoff, J Cole, Harry Connick Jr., and Academy Award-nominated film composer Carter Burwell. WSDG has collaborated with such noted architects as Frank Gehry, Philippe Stark, Rafael Viñoly, Santiago Calatrava, Grimshaw, and Norman Foster. An 11-time winner of the prestigious pro audio NAMM TEC Award for outstanding achievement in Acoustics/Facility Design, WSDG maintains U.S. offices in New York, Washington, DC, San Francisco and Miami and global offices in Barcelona, Basel, Berlin, Belo Horizonte, Buenos Aires, Guangzhou, Mexico City and Mumbai.

Steve Bailey Public Relations, Hummingbird Media
Howard Sherman Howard Sherman Public Relations