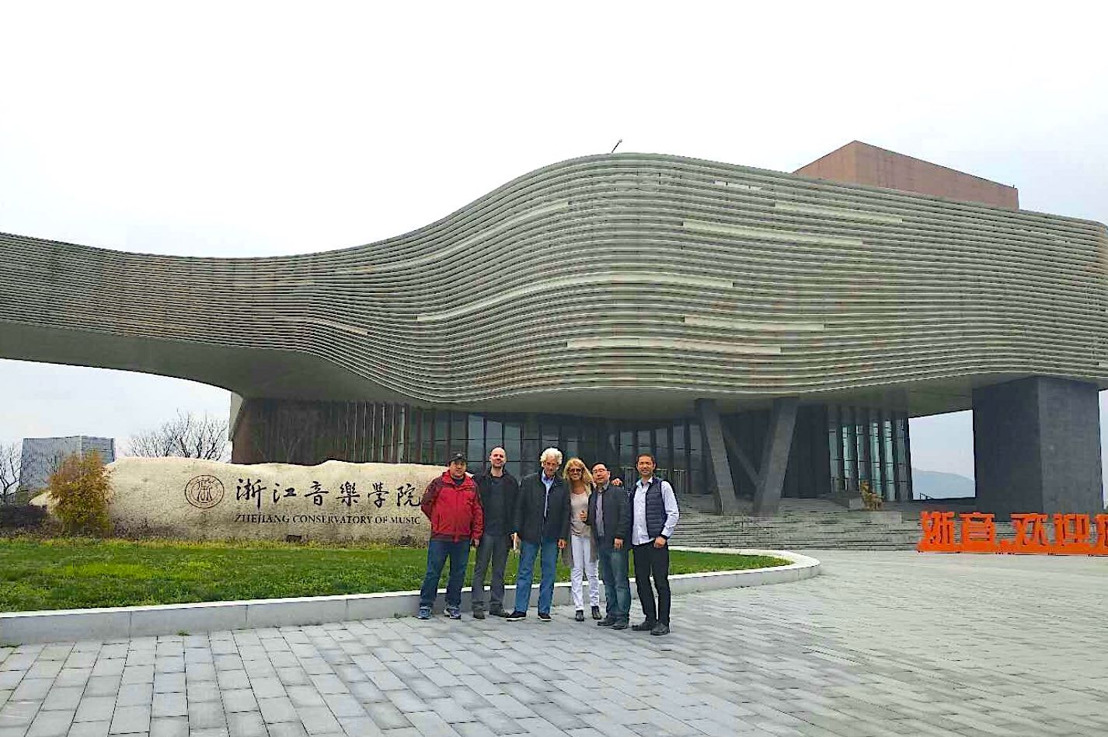 WSDG GLOBAL REACH ENCOMPASSES MULTIPLE PROJECTS
Abu Dhabi, Brazil, China, Colombia, Hawaii, Mexico, Qatar . . .
Monday, October 15, 2018 — ​NYC - AES 145 JAVITS CENTER BOOTH #433: "Globalization is a fact of life that knows no boundaries," states WSDG Walters-Storyk Design Group, Partner/Director of Business Development, Sergio Molho. "As WSDG enters its 5th decade we have applied our skills to projects ranging from Moscow to Beijing, Jakarta and Brooklyn, NY." With nearly seventy assignments in various stages of design and construction in a dozen countries around the world, 2018 represents a prime example of WSDG's global reach," he says.
"Just as our list of services increases with the introduction of new techniques, capabilities and client requests, so too has our marketplace grown. As specialists in Acoustic and Architectural Consulting and Media System Engineering, WSDG provides a wide portfolio of services," Molho points out. "And, the AES Convention represents an extraordinary opportunity for us to form our own 'General Assembly Meeting'."
From complete Broadcast & Recording Studio, Sports, Entertainment and Educational Facility Design to Systems Integration, WSDG's expertise encompasses:
Acoustic Testing, Measurement & Assessment
Acoustic Simulation, Modeling & Auralization
Room Acoustic Analysis & Surface Treatment Design
Sound Isolation/Structural Acoustics Analysis & Design
Peer Review, Expert Reports, Studies & Surveys
Media Facility Site/Facility/Master Planning & Feasibility Studies
Technical Interior Design & Product Development/Prototype Testing
With representation in Brazil, China, Europe, India, and Mexico, and current projects in virtually all of those locales, WSDG is experiencing substantial growth. The depth of our current project list is best illustrated by its variety," Molho says. "2018 Educational assignments include ZJCM, the Zhejiang Conservatory of Music in Hangzhou, China; Drexel University, Philadelphia, PA, Rensselaer Polytechnic Institute (RPI), Troy, NY, and ICESI University, Cali, Colombia. We are working on the Jakarta International Expo Convention/Entertainment Center in Indonesia; and we have numerous US projects including full service production/distribution studios for: Audible, Newark, NJ; Midroll / Stitcher, NYC, and, Gimlet Media in Brooklyn.
"Each of our design projects is unique in its scale, aesthetics, technical requirements, budgetary and timeframe parameters. But they are all similar in their need for superb acoustics and sound isolation, sophisticated systems integration and serious attention to future-proofing," Molho says. "And, each benefits from global collaboration between all our offices. WSDG maximizes creative connectivity by taking screen sharing to a new level. Global meetings are held on daily and sometimes hourly schedules. Elements ranging from basic ideas, to acoustic samples, and floor plan changes are exchanged, considered, and revised in real time. Each office has its specialty whether it be high res renderings, systems integration, or acoustic simulation, modeling or auralization. The level of cooperation and mutual support is literally dazzling. But, even with all this connectivity we still spend an amazing amount of time traveling to projects around the globe." Molho adds. "Nothing takes the place of walking through a new project and performing tests on site."
"The blessing/curse of technological upgrades will endure as long as new 'must have' hardware and software innovations are introduced," concludes founding partner John Storyk. "The template we helped devise for Jimi Hendrix's Electric Lady studio nearly fifty years ago has evolved with the times, but its core principals remain constant. It's an honor to see 'The Lady' continue to grow, embrace new trends and technologies and, turn out audio content that sounds great."
###
Howard Sherman Howard Sherman Public Relations