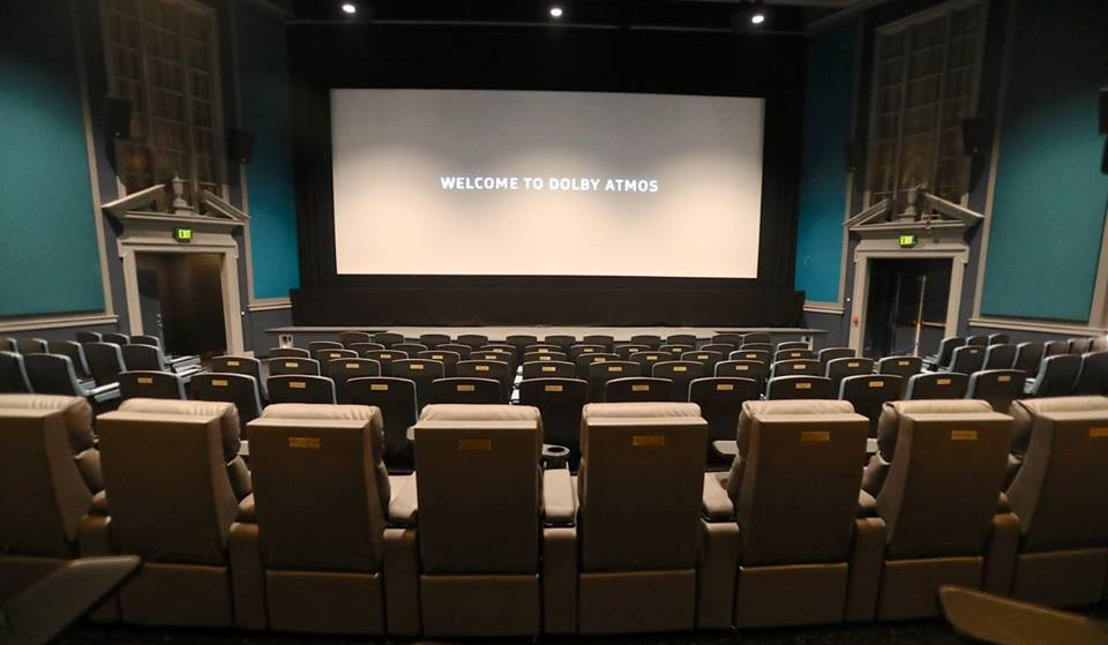 WSDG Helps Transform Community Landmark Bedford Playhouse Into Thriving Multimedia Arts Center
Now outfitted with cutting-edge acoustic design and A/V systems, the Bedford Playhouse / Clive Davis Art Center is a state of the art hub for film, arts and culture
Bedford Village, NY, May 21, 2019 — Originally opened in 1947, the Bedford Playhouse provided its community with a classic cinema experience for nearly 70 years. But when the beloved theater closed its doors in 2015, Bedford resident and film critic John Farr founded a grassroots organization, Friends of Bedford Playhouse, to revitalize the space and turn it into a nonprofit center for film and the arts.Early in the planning stages, the organization retained the services of New York-based acoustic consulting and audiovisual integration firm WSDG to provide complete acoustic and A/V systems design consultation for the complex. Now, since the grand opening of the renamed Bedford Playhouse / Clive Davis Arts Center last September, the building has once again become a sanctuary for movie- and art-lovers in Westchester County and beyond.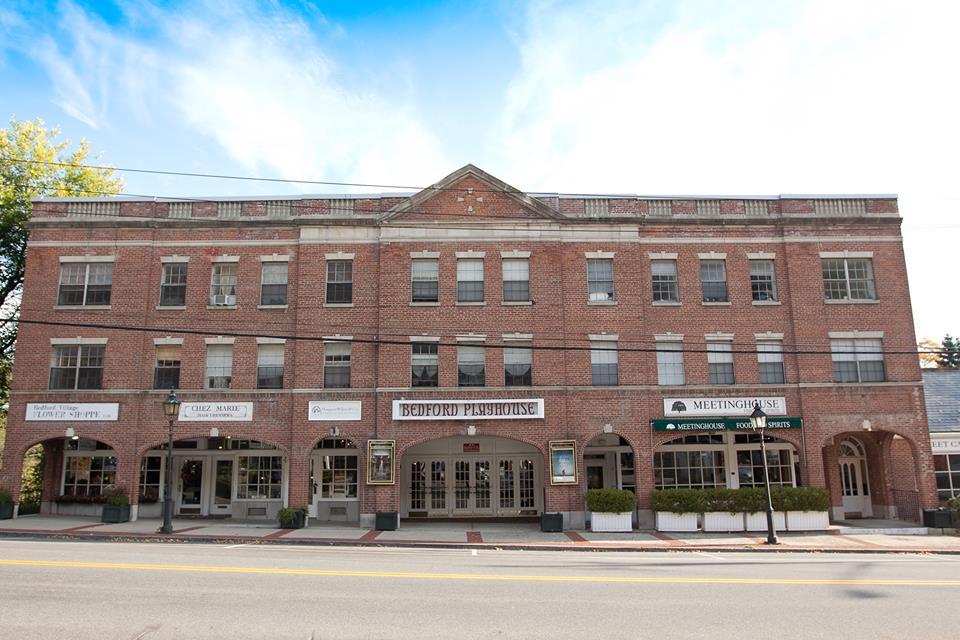 Retooled for the 21st Century
​The multi-theater building now boasts three theaters playing first run releases, classics and family films, as well as indie and art house films. WSDG worked as a consultant throughout the renovation process on acoustic design and A/V systems for the 160-seat Main Theater equipped with a giant projection screen and a revolutionary Dolby Atmos film sound system, as well as for the two smaller theaters on the first floor — "The Clive," which seats up to 40, and "The Worby," a flex-use theater and event space with removable furniture. Additional attractions include the luxurious NYC&G VIP Tasting and Green Room designed for intimate wine tastings and events, and the Playhouse Café, where guests can sip a latte, eat a light meal, or grab a drink at the full bar.
Joshua Morris, Partner and COO of WSDG, carefully consulted with the Playhouse board to ensure that the new acoustic design and A/V systems throughout the building would give patrons the most technologically up-to-date movie-going experience while simultaneously restoring the historic character of the space overall.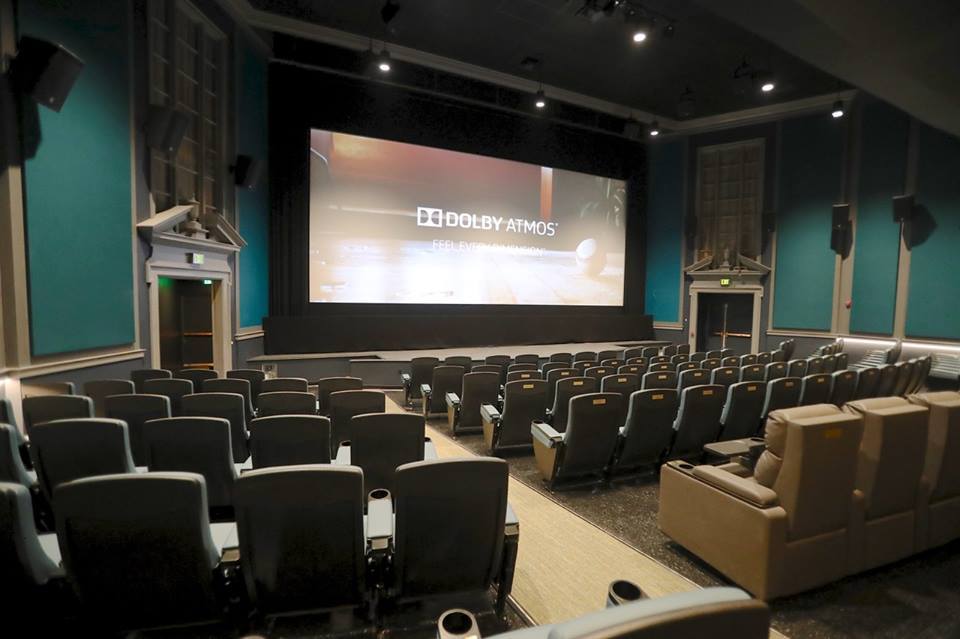 "While at first glance, the Bedford Playhouse appears to be a turn-of-the-[20th] Century cinema, beneath its floating floors and within its acoustically isolated walls and ceilings are first-tier, professional operating systems," Morris said. "There will be no sound leakage between the theaters or the public areas. A password protected, tablet-based system assures user-friendly control of all lighting, sound, HVAC, and related systems, and the lobby area employs ceiling speakers for distributed background music and public address. Five LCD screens display messaging, and programming previews. This cool, inviting theater complex looms as an important addition to the local community."
From Classic Cinema to State of the Art Cultural Center
​Originally designed by Bedford Playhouse's original owner Joseph H. Stearns during Hollywood's Golden Age, the theater delivered the quintessential movie-going experience using what was then the pinnacle of acoustic design and audiovisual technologies. But by 1983, the single-theater design had become a thing of the past and the new ownership divided the Bedford Playhouse into two smaller theaters — altering Stearns' design and the building's acoustics. The majestic big-screen ambience local moviegoers had once loved was all but lost.
By 2014, the owners declined to renew the lease, and the theater was shut down the following year. Farr — who made a career out of his love for the movies as a film critic and curator — already had experienced launching another nonprofit cinema in Stamford, Connecticut with the rebirth of the Avon Theatre Film Center. So, he decided to embark on a similar path reviving Bedford's theater. He formed the Friends of Bedford Playhouse with the goal of transforming the complex into a not-for-profit cinema, cultural center and community hub.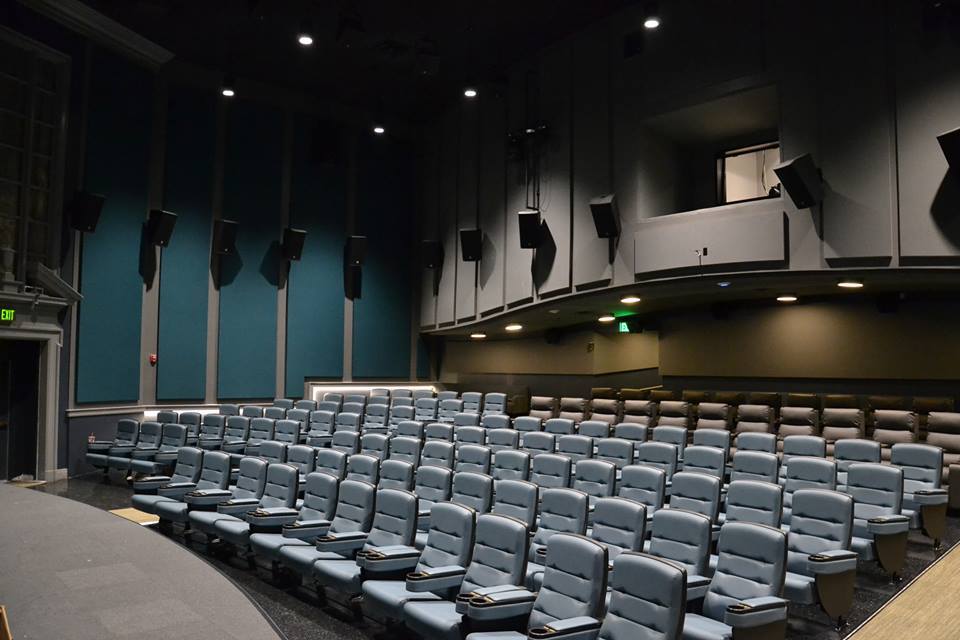 About three months after Farr founded the Friends of Bedford Playhouse, the organization had raised a remarkable sum of about $2 million. Along the way, legendary record producer and five-time Grammy Award winner, Clive Davis, jumped on board, endowing the organization with its largest donation to date; and, by the time construction of the renamed Bedford Playhouse / Clive Davis Arts Center began, the nonprofit had raised over $8 million.
Throughout the duration of the renovation process, Morris worked closely with local resident, board member and recording studio owner/producer Shaul Dover, who praised WSDG's role in bringing the project to fruition. "My professional experience with Joshua Morris and WSDG founding partner John Storyk was flawless on all counts," Shaul Dover remarked. "I knew they would do outstanding work on the Bedford Playhouse and recommended them highly to Board Chair, Sarah Long, and film curator/Friends of Bedford Theater Founder John Farr. WSDG's track record of creating outstanding acoustic environments — ranging from Jazz At Lincoln Center to New York's popular Le Poisson Rouge — made an extraordinary difference to filmgoers at the Bedford Playhouse."
More Than Just a Movie Theater
​The Bedford Playhouse / Clive Davis Arts Center hosted a three-day grand opening celebration the weekend of Sept. 28, 2018, which included celebrity appearances, red carpets, live entertainment and family fun, and culminated with an onstage conversation between Davis and renowned musician, actor, comedian and longtime Letterman sidekick Paul Shaffer. Other attendees included Chevy Chase, Robert Klein and Jeffrey Tambor, who — along with Playhouse supporters, board members and Bedford notables — toured the newly renovated facility
In addition to its daily movie screenings and recurring monthly programs in which audiences can view and discuss everything from film classics to contemporary favorites, the Bedford Playhouse / Clive Davis Arts Center continues to earn its reputation as a community hub — not only for moviegoers, but also for those interested in any of the other myriad forms of culture and the arts. Hosting a variety of events, including its author series, public speaking engagements, musical performances, art exhibits and educational offerings, the nonprofit cinema and arts center already boasts a long list of past events, and it looks forward to a future in which everyone in the community can find something they're interested in on its list of upcoming showcases.
Some examples of past events include: The NYC&G VIP Tasting and Green Room reveal party, hosted by New York Cottages & Gardens, in which the guest of honor, Martha Stewart, hosted an inaugural wine tasting attended by some of her closest friends; The inaugural event in the Playhouse's Author Series, which featured Sheila Nevins, president of HBO Documentary Films and author of the best-seller You Don't Look Your Age… and Other Fairy Tales, and Lesley Stahl of CBS-TV's 60 Minutes, during which Stahl interviewed Nevins about her groundbreaking career as a pioneer for women in a field traditionally dominated by men; And, to kick off last holiday season, Bedford resident Chevy Chase joined John Farr for a screening of the now-classic National Lampoon's Christmas Vacation, which was followed by a Q&A with the audience of over 100 local residents.
ABOUT WSDG, LLC
​For nearly 50 years, acoustic consulting and A/V integration firm WSDG hasbeen designing media production facilities worldwide, over 3500, and counting. Projects range from Jimi Hendrix's Electric Lady Studio and Jazz At Lincoln Center in New York, to broadcast facilities for The Food Network, CBS and WNET, over twenty teaching studios for The Art Institutes, and corporate clients such as Sony, IBM and Novartis. Recent credits include Jungle City in New York, The Church Studio, in London, private studios for Green Day, Jay-Z, Bruce Springsteen, Alicia Keys and Academy Award-nominated film composer Carter Burwell. WSDG has collaborated with such noted architects as Frank Gehry, Philippe Stark, Rafael Viñoly, Santiago Calatrava, Grimshaw, and Norman Foster. An eleven-time winner of the prestigious pro audio NAMM TEC Award for outstanding achievement in Acoustics/Facility Design, WSDG maintains U.S. offices in New York, Washington, DC, San Francisco and Miami and global offices in Barcelona, Basel, Berlin, Belo Horizonte, Buenos Aires, Guangzhou, Mexico City and Mumbai.
​

Jeff Touzeau Public Relations, Hummingbird Media, Inc.