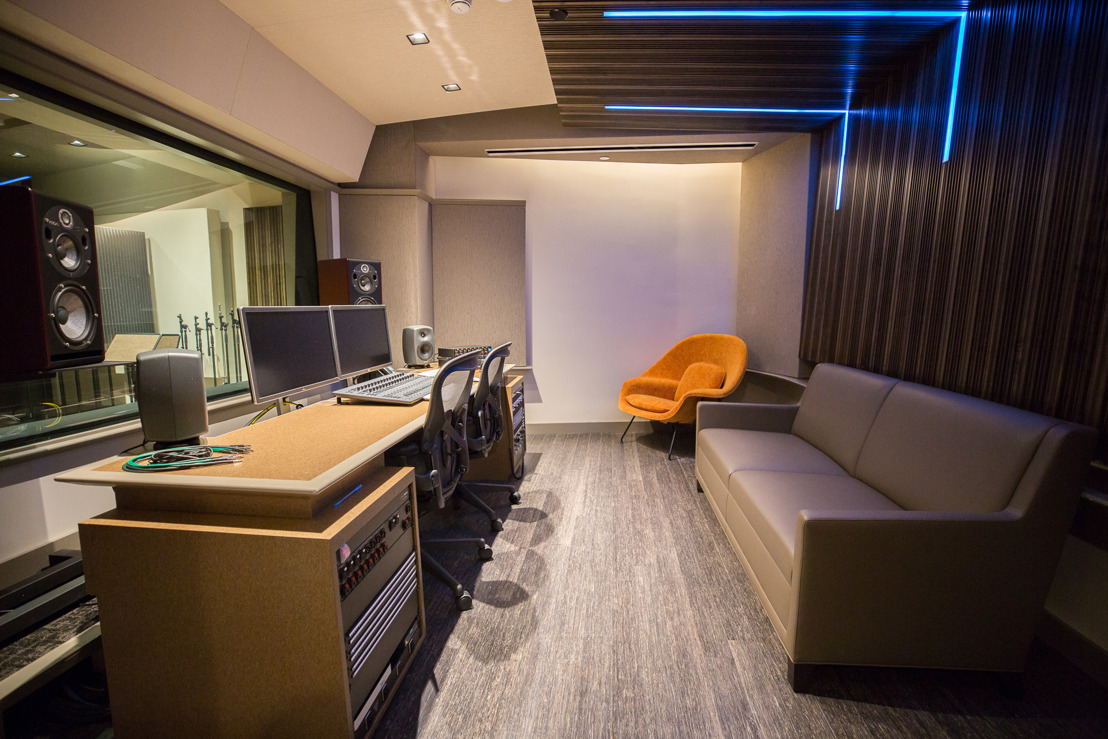 WSDG SEES NEW TREND IN A/V STREAMING/PODCAST STUDIO DESIGN
High End Studios For Audible, Midroll / Stitcher & Gimlet Media
Monday, October 15, 2018 — NYC - AES 145 JAVITS CENTER BOOTH #433: Live Streaming, Podcasts and a new generation of audio entertainment have created a groundswell in specialized studio design. Three recent NYC-area projects exemplify this growing segment. WSDG Walters-Storyk Design Group partner/project manager, Romina Larregina reports this spring's opening of recorded book and short form audio programming studios for Audible, marks the leading architectural/acoustic design firm's intro to the field.
"We first worked with Audible in 2007 and designed the initial studios for their Newark, NJ facility. Those rooms were used primarily for reader recording sessions," Larregina says. "In late 2015 when Audible's growing production schedule required a substantial facility expansion, they brought us back on board. The Audible team had captured a 2,400 sq. ft. corner section of their headquarters building, and we were tasked with designing a 'Celebrity' Studio and Control Room, two dedicated Iso Booth/CRs, a comfortable 'Green Room' a Mechanical Room and related support space. Working with the Spector Group architectural firm, we collaborated on a program to optimize the space," Larregina says.
Soon after inaugurating the Audible assignment, WSDG was commissioned to design production /recording/mixing studios in Manhattan for leading podcast advertising network, Midroll / Stitcher. Simultaneously, award-winning Brooklyn, NY-based narrative podcasting company Gimlet Media signed on for new studios. "We've followed podcast's growing impact and reach, and were very pleased to have the opportunity to design studios for the three leading creative players in this rapidly expanding production sector," Larregina points out.
"While the basic issues of acoustic excellence, room-within-room CR and Live Room isolation, and sophisticated aesthetic design requirements are analogous to traditional recording studios, podcast sessions are focused on spoken word recording," she points out. "That said, Isolation between studios was a paramount concern in all these projects, as they may be recording live music and video for some of their more ambitious projects in addition to dialogue-based programming. We seem to be experiencing a bump in design commissions for a market that didn't exist just a few years ago. And, it is extremely interesting (and business-affirming) to be a part of this emerging sector of studio design," Larregina adds.
"In addition to our growing prominence in live streaming and podcast studio design, WSDG continues to play a leading role in destination and traditional studio creation," company founding partner, John Storyk concludes. "And in audio/video production facilities for broadcast and content creation clients ranging from ESPN and MJH to PepsiCo. The demands for acoustic excellence, and high-end aesthetic values remain constants to all our projects, and we thrive on these challenges."
On Friday, October 19 from 12:30 p.m. to 1:30 p.m. John Storyk will chair Small Room Studios . . . Are They Here To Stay? A panel discussion with studio owners of small, but busy facilities who will share their experiences of maintaining profits in a time when studios of all sizes seem faced with extinction.
On Friday, Oct. 19, 3:30pm – 5:00pm WSDG Partner/Project Manager will Chair: Building a Modern Broadcast Facility in a 153-Year-Old House http://www.aes.org/events/145/broadcast/?ID=6221
###
HOWARD SHERMAN Howard Sherman Public Relations