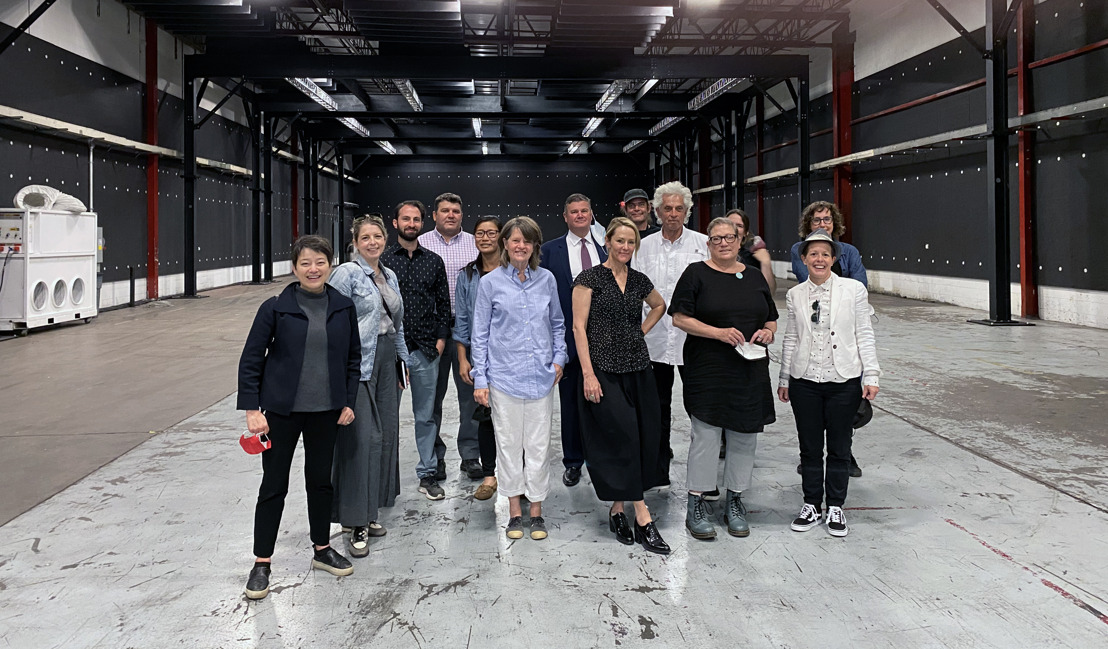 WSDG 'Sounds Out' Upriver Studios
Innovative New Hudson Valley Film/TV Production Complex Fine Tunes Acoustics
SAUGERTIES, NY: ​ Actress/filmmaker and Founder and President of Upriver Studios Mary Stuart Masterson, and filmmaker/co-Founders Beth Davenport, and Diane Wheeler-Nicholson have pooled their production skills and industry connectivity to create a 101,000 SF large scale, climate-forward film and TV production facility, situated in a former light manufacturing building in Saugerties, New York. ​ Upriver Studios is part of the founders vision for a Hudson Valley based media ecosystem, which started in 2016 when Masterson and Davenport formed Stockade Works, a non-profit organization whose mission is to increase diverse, local production crew capacity by providing ​ training, mentorship and job referrals to work on local productions. ​ Scaling their facilities to attract large TV productions, thereby creating hundreds of job opportunities for Hudson Valley crews, Upriver Studios opened in 2021 with the HBO Max™ production of Pretty Little Liars: Original Sin set to air in 2022.
Cognizant of the critical role acoustics and stage ergonomics play in the production arena and familiar with the global credentials of neighboring Highland, NY-based architectural/acoustic design firm WSDG, Ms. Masterson, invited them to add their acoustic and design expertise to the project in conjunction with the project's architect Spacesmith. With studio design credits that include CBS, WNET, Lifetime, Spotify, SONY, RCA and The Food Network, WSDG was an ideal choice for this task.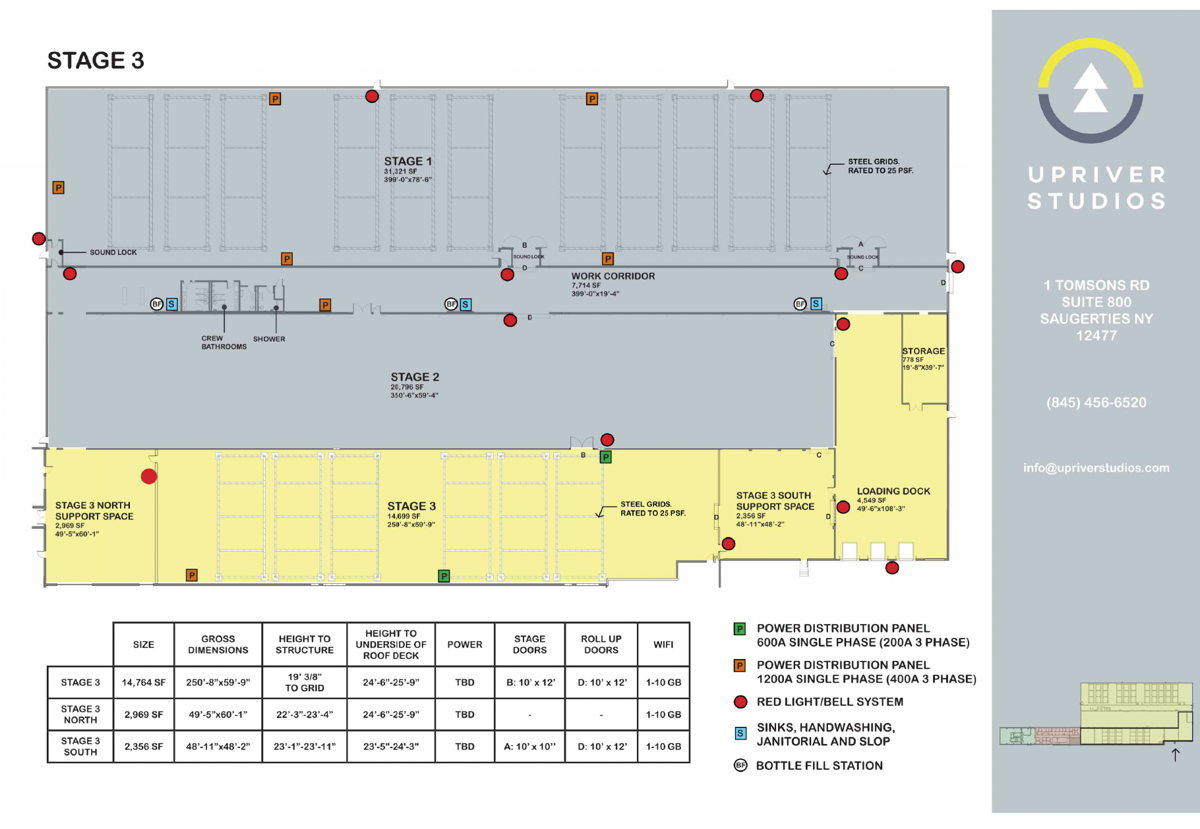 WSDG co-founding partner, John Storyk and partner/project manager Jonathan Bickoff conducted a series of Impulse Response measurements in the proposed locations for Upriver's 31, 321 SF. Stage 1 and 14,699 SF Stage 3. ​ The initial tests revealed a reverberation time of nearly 4 seconds in the midrange. ​ To ameliorate the problem, a formidable acoustic treatment strategy was created, a considerable challenge given the structural nature of the existing light manufacturing building, as well as time and budget restraints. ​ The installation of 28,000 SQ. FT. of absorption materials in Stage 1 and over 15,000 SQ. FT. in Stage 3 was proposed to reduce the reverberation time.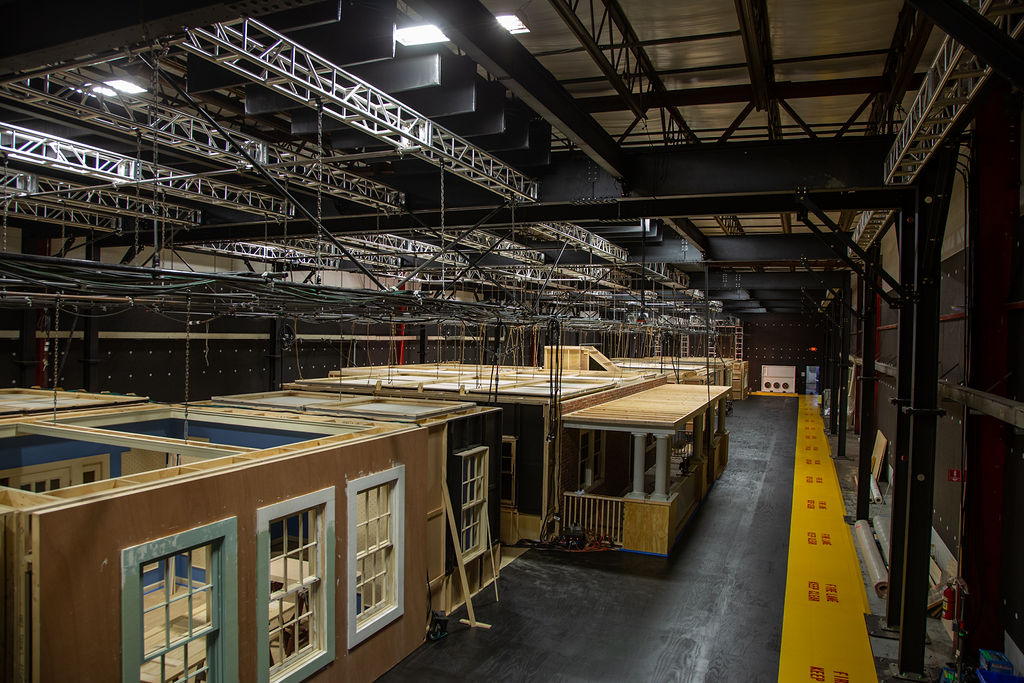 Bickoff reports, a combination of 2" Rigid theater wallboard, hanging Lapendary Panels, and acoustic baffles were deployed throughout the sound stages to reduce the reverb time and create industry standard specifications for clarity and intelligibility. "Existing roll up and swing doors to the corridor were replaced with large vehicle size acoustic metal doors fitted with 'seal kits.' ​ Sound locks were constructed to provide optimal isolation for voice recording on both stages," Bickoff adds. ​ "All penetrations in demising partitions between Bay 7 and Corridor 6A were filled and sealed. ​ The benefits of these corrective measures were immediately and dramatically evident. ​ They resulted in a Quietness Measure of NC 25 in optimal circumstances. "The new installations also achieved a Noise Isolation Class average rating of NIC 60, which exceeded the recommended design target. ​ Tony Pagano, head of Kingston, NY-based MGI Construction + Consulting supervised the facility build-out, and their professionalism aligned perfectly with our recommendations," Bickoff concludes.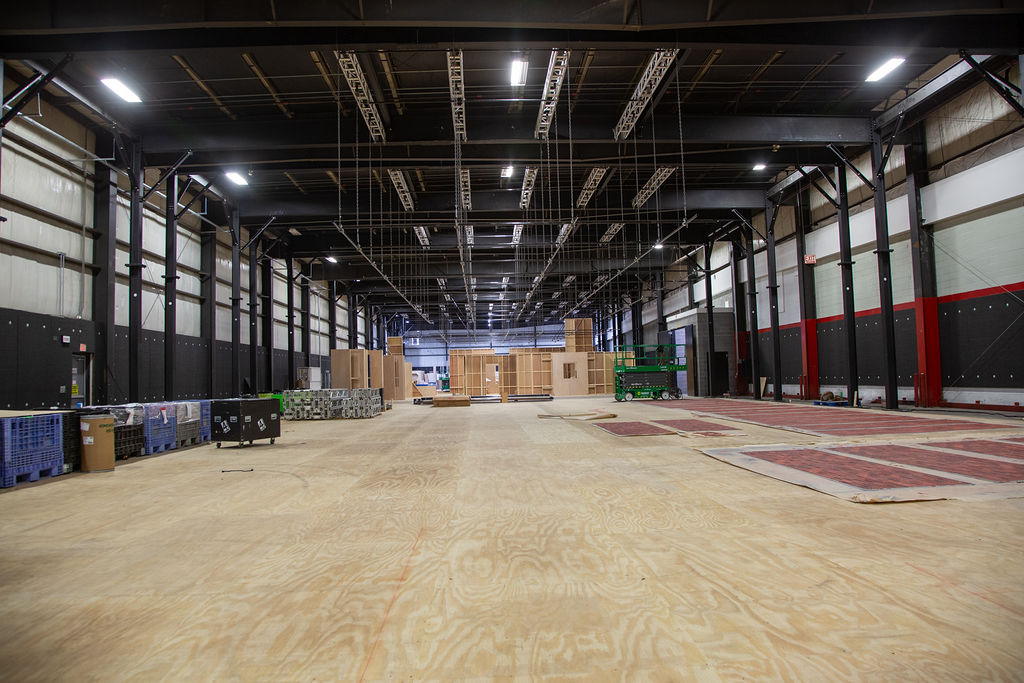 "Quiet on the set!' is actually something we can achieve thanks to our WSDG fine-tuned stages," remarked studio President, Mary Stuart Masterson. ​ "Within one year of operations, we are at 100% capacity, and our clients have been knocked out by the scale and professionalism with which our design team has delivered the technical specs that major productions demand. ​ ​ We've loved working with both WSDG and Spacesmith to realize this vision for value. ​ Before people walk through the door for the first time, I guess they expect a warehouse with some baffles and a couple of lights, but when they walk out, their jaws are on the floor. It really is amazing what this team has created. This is the real deal," she adds.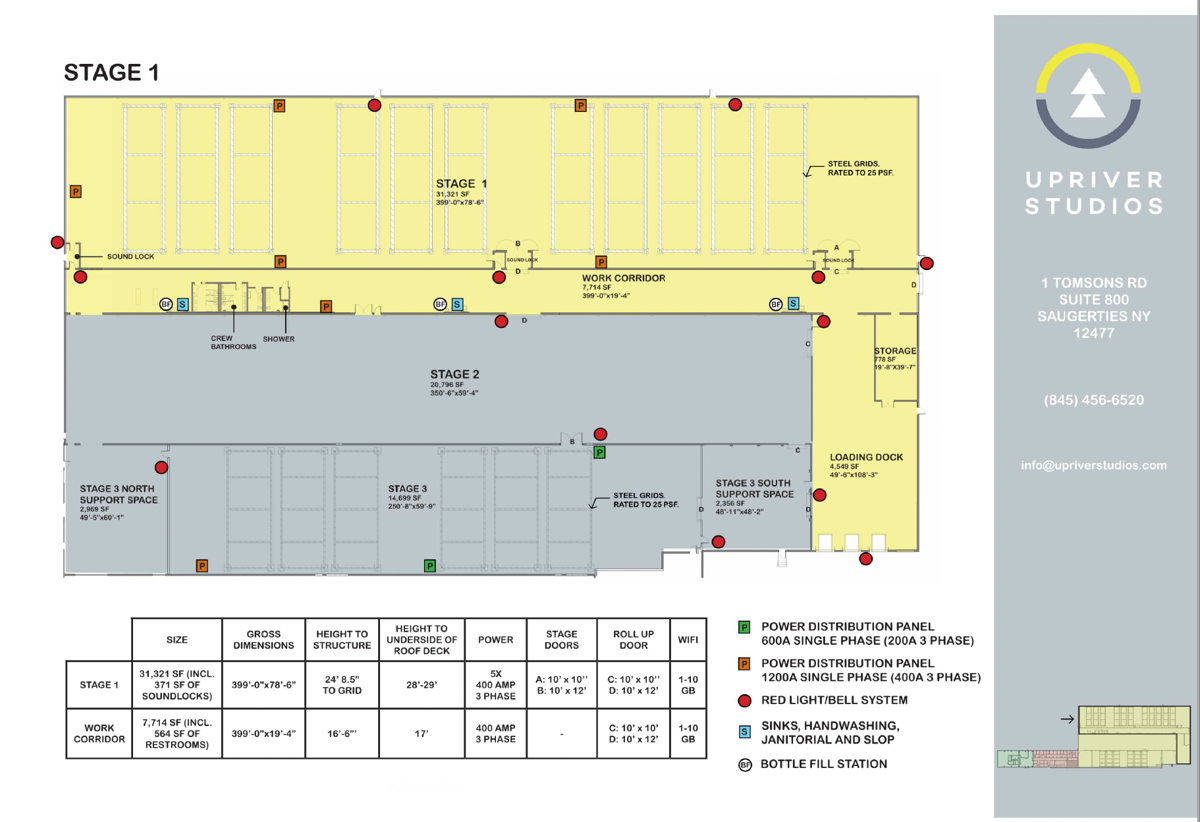 "Upriver Studios has quickly begun to illustrate its potential for bringing new jobs and exciting productions to the Hudson Valley," John Storyk remarked. ​ "We were honored to be part of this project's creative team, in bringing this important new addition to our community. And, we wish Mary Stuart Masterson and her associate's great success with this extraordinary new studio."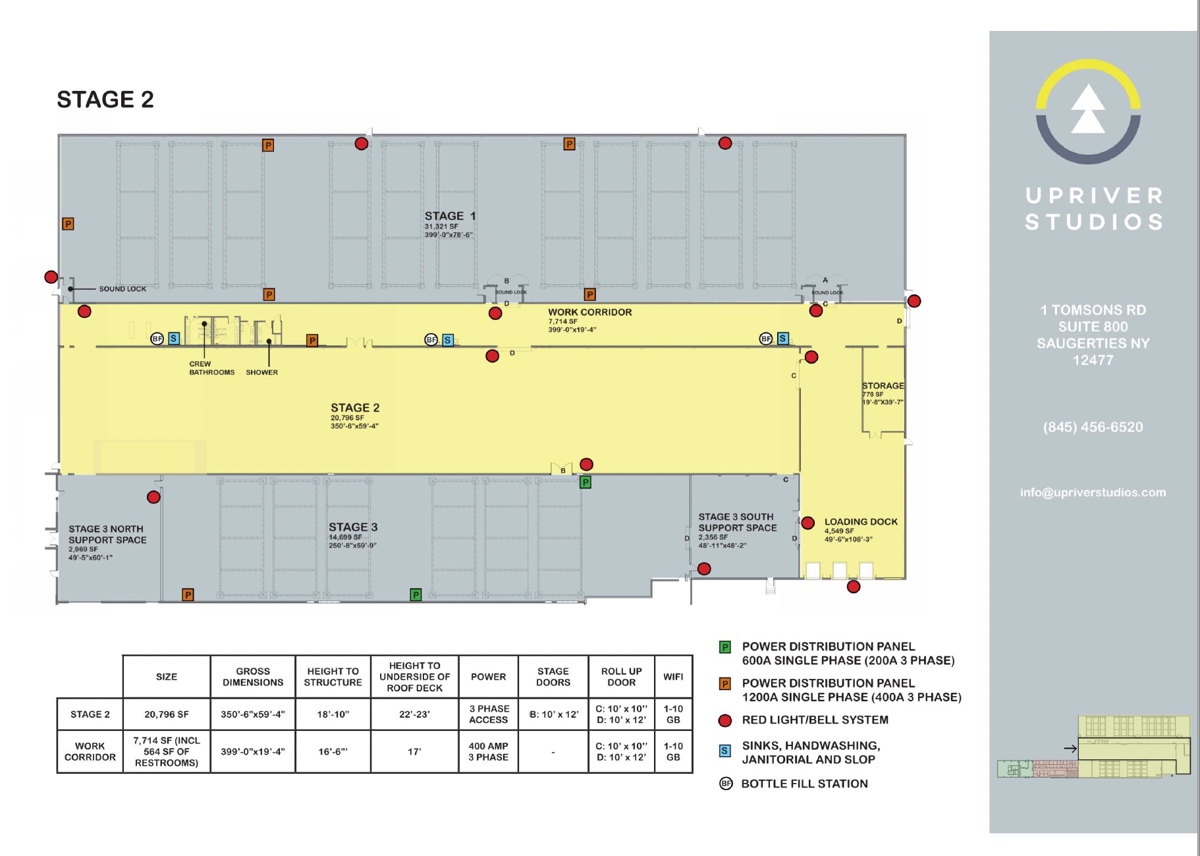 For more information about WSDG, please visit: http://www.wsdg.com/
Header photo by Helen Zouvelekis.
​Group Left to Right: Spacesmith architect, Katy Flammia AIA & exec. Misty McGee, WSDG PM, Jonathan Bickoff, ​ George Salinovich, Spacesmith architect, Kim Wood AIA, and firm Principal, Jane Smith FAIA, MGI Construction + Consulting principal, Tony Pagano, Upriver Studios President, Mary Stuart Masterson, John Hansen, WSDG Founding Partner, John Storyk, Diane Wheeler-Nicholson, Khadeeja Linsay, Stockade Works owner, Beth Davenport and Shoshana Gray. ​ Photo by Helen Zouvelekis
ABOUT WSDG, LLC
​For over 50 years WSDG has been designing media production facilities worldwide, nearly 4000, and counting. Projects range from Jimi Hendrix's Electric Lady Studio and Jazz At Lincoln Center in New York, to broadcast facilities for The Food Network, CBS and WNET, over twenty teaching studios for The Art Institutes, and corporate clients such as Sony, IBM and Novartis. Recent credits include Jungle City in New York, The Church Studio, in London, private studios for Green Day, Jay-Z, Bruce Springsteen, Alicia Keys and Academy Award-nominated film composer, Carter Burwell. WSDG has collaborated with such noted architects as Frank Gehry, Philippe Stark, Rafael Viñoly, Santiago Calatrava, Grimshaw, and Norman Foster. An eleven-time winner of the prestigious pro audio NAMM TEC Award for outstanding achievement in Acoustics/ Facility Design, WSDG maintains U.S. offices in New York, Washington, DC, San Francisco and Miami and global offices in Barcelona, Basel, Buenos Aires, Berlin, Belo Horizonte, Buenos Aires, Guangzhou, Mexico City and Mumbai.
ABOUT SPACESMITH
​Spacesmith is a full-service architecture, interior design, and consulting firm specializing in renovations, adaptive reuse and new buildings for both private and public sector clients. Spacesmith is a team of highly skilled architects, designers, space planners, and project managers. Our partnership with Davis Brody Bond provides us with additional resources to deliver architecture and design services at any scale and location to clients across a wide range of sectors. At Spacesmith we focus with meticulous attention on the concept and details of every project in order to arrive at a solution which is architecturally, socially and skillfully designed. More at spacesmith.com.
Howard Sherman Howard Sherman Public Relations

Steve Bailey Public Relations, Hummingbird Media