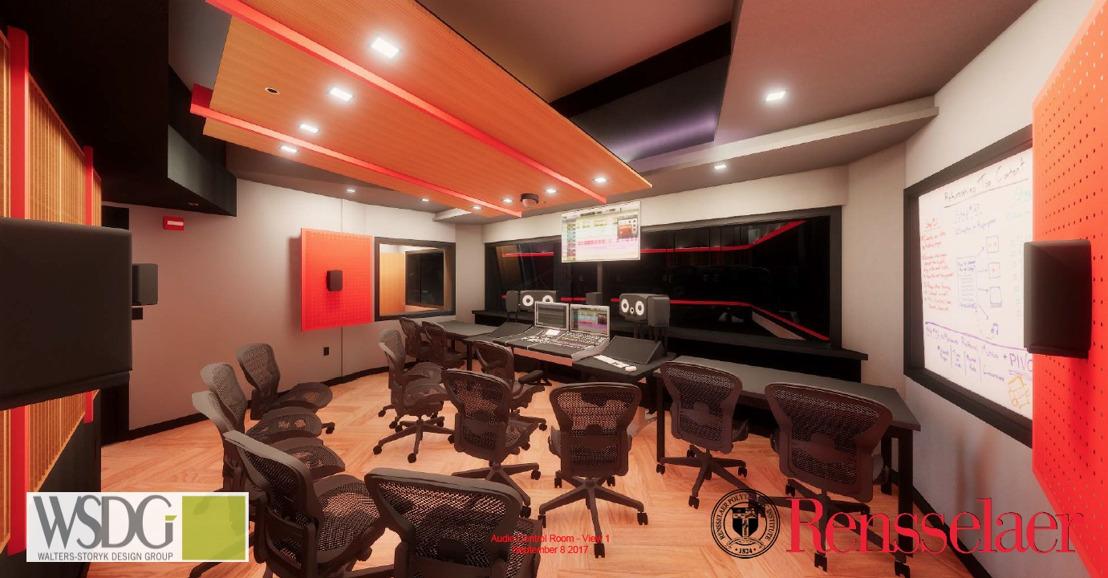 WSDG WALTERS STORYK DESIGN GROUP EMPOWERS INT'L PRO AUDIO EDUCATION BOOM
New Teaching Complexes For: Rensselaer Polytechnic Institute - USA / Zhejiang Conservatory of Music - China / TEC Monterrey – Mexico
Monday, October 15, 2018 — NYC - AES 145 JAVITS CENTER BOOTH #433: There is a sonic boom in the international Pro Audio Education field, and WSDG Walters-Storyk Design Group, is at its epicenter. Nearing their fiftieth anniversary, WSDG has designed major teaching facilities for NYU, Berklee College of Music (Boston & Valencia, Spain), and many other domestic and foreign educational institutions. And, 2018 marks a watershed year for WSDG's academic projects
Early in September members of the WSDG team flew to TEC Monterrey University in Mexico City to participate in opening ceremonies for the University's new Pro Audio Education/Production complex. Created to replace a previous facility destroyed by an earthquake in 2017, the 2000 sq. ft. complex is comprised of three fully isolated control / Live / Iso Room studio suites. With a handsome student reception room and a full complement of recording and mixing gear, the new complex represents a significant investment in pro audio teaching.
In late September, Rensselaer Polytechnic Institute (RPI), one of the world's highest ranked research colleges, cut the ribbon on a fully immersive WSDG-designed, 3D audio/video production, mixing/editing complex. Recently completed on RPI's Troy, NY campus, the new facility was conceived as an integral component of their mandate to provide degree programs in engineering, computing, business management and information technology for next generation technologists.
In August 2018, the Zhejiang Conservatory of Music (ZJCM) in Hangzhou, East China opened a 5000 sq. ft. WSDG-designed pro audio education complex. Ensconced in an ultra-modern 8,000 sq. ft. building on the picturesque100-acre ZJCM campus, this 21st Century Music Production & Education Complex is the crown jewel among the Conservatory's nine concert halls, 102 rehearsal halls, 842 practice rooms and six small studios. At 3200 sq. ft., facility's Live Room is one of the world's largest educational recording studios. With a 26 ft. high ceiling crowned by a huge, iconic cloud/lighting fixture, and draped with full-length motorized variable acoustic curtains, it is capable of hosting sessions with 100+ musicians.
The complex also features a 650 sq.ft. control room with a floor-to-ceiling panoramic view of the Live Room. ZJCM's twelve academic departments are designed to provide up to 5000 full-time students with educational programs on composition, conducting, vocal and musical instrument performance, recording and technology.
Summing up WSDG's philosophy, founding partner/Adjunct Professor, Studio Design and Acoustics, Berklee College of Music, John Storyk remarked, "Education remains a primary component of our client base. Having lectured on acoustics and studio design at RPI and other colleges and universities around the country, and as a visiting professor at the Berklee College of Music in Boston I consider teaching my avocation, and an important aspect of my own ongoing education. I often find I learn as much from students as they get from my lectures. We were very pleased to have been awarded these teaching studio design commissions, and we are proud to add them to our client list."
Current WSDG teaching/production projects include: Concordia University in Irvine, CA; a 21st Century Music Production & Education complex for China's Beijing Film Academy, and an ambitious recording/teaching facility for ICESI University in Cali, Colombia.
On Thursday, Oct. 18 4:00pm – 5:30pm E1E12 John Storyk will moderate - what's Driving the International EDU/Pro Audio Education Boom? http://www.aes.org/events/145/education/?ID=6274
###
Howard Sherman Howard Sherman Public Relations