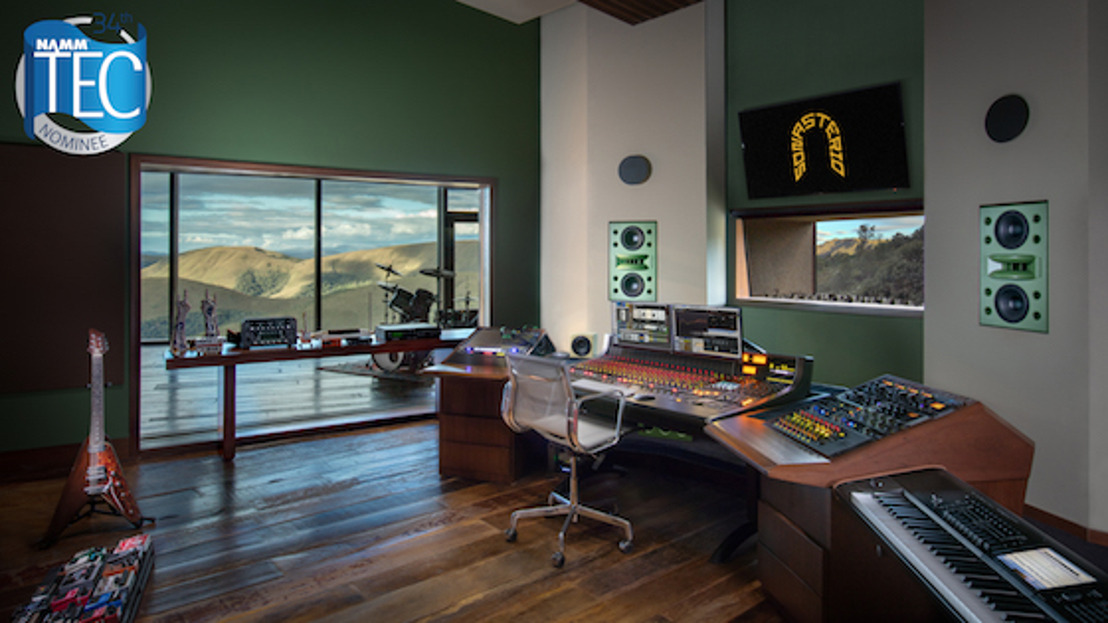 WSDG'S SONASTÉRIO STUDIOS A TEC AWARD NOMINEE
Brazil's First Destination Studio Overlooks A Mountain Range
Wednesday, November 14, 2018 — BELO HORIZONTE, BRAZIL: Early in 2015 Bruno Barros a young musician/engineer completing his education at the Musicians Institute in Hollywood, CA. decided to create a destination studio in Belo, Horizonte. His family retained famed Brazilian architect João Diniz to design a luxury home overlooking the Minas Gerais mountain range. Because he knew it was critical for the architect and the acoustician/studio designer to begin collaborating at the earliest planning phase to insure the studios optimal acoustic environment, Barros engaged Belo Horizonte-based WSDG partner/ director of design Renato Cipriano. Today Sonastério has established itself as Belo Horizonte's first "Destination Studio" and has been nominated for the 2019 34th Annual NAMM TEC AWARD in the Creative Studio Design category.
"Superb acoustics begin with geometry," states Renato Cipriano. "We worked hand in glove with the architect to insure that every square foot was precisely calibrated. The high comfort level set the stage for an extraordinary recording experience. The 750 sq. ft. live room is distinguished by a 20' ceiling height, an 80 sq. ft. Iso booth, panoramic mountain views, custom ceiling clouds outfitted with a pro lighting grid to facilitate video shoots, and a striking 'Sunburst' studio logo hand painted over an acoustical broadband wall treatment. The airy 420 sq. ft. Control Room boasts the SSL AWS 924 complimented by top-drawer Augspurger Duo8 speakers with 12" subwoofers, a solid collection of outboard gear, and an impeccable systems integration by Ground Control. Initial sessions by Sony rock group Banda Daparte for their debut album were perfect assets to our critical fine-tuning process. Next up were Skank sessions of a new take on "A Hard Day's Night" for TV Globo."
Studio owner Bruno Barros adds, "Sonastério Studios is a work of art in itself. More than just a recording studio, Sonastério is a house of creation designed to enhance the natural expressiveness of each artist. It is the result of a collaboration between João Diniz Architecture which has a wide portfolio of award-winning designs, and WSDG, Walters-Storyk Design Group, a world-renowned acoustic architecture design firm and multiple NAMM TEC-winner. Here at Sonastério we believe that music enlightens, and so we are providing artists with a space that fosters excellence and helps to guide them in their constant search to let their creative minds shine."
"Having had the luxury to participate in this project since the early stages of programing and design, through a not so typical construction, calibration of the speaker system, and ending by recording and producing some high level music there allow us to proudly report that the consensus of opinion amongst engineers and musicians is that Sonastério sounds every bit as good as it looks. This was a textbook situation, a knowledgeable client, a great architect and flawless geometry," Cipriano concludes.
Voting for the 2019 TEC Awards will begin on Wednesday, November 14, 2018. For information on voting visit: https://www.tecawards.org/tec34/voting
The 34th Annual NAMM TEC Awards are scheduled for Saturday evening January 26th 2019 at the Hilton Pacific Ballroom opposite the Anaheim Convention Center. For ticket information visit: https://www.tecawards.org/night-of-the-show