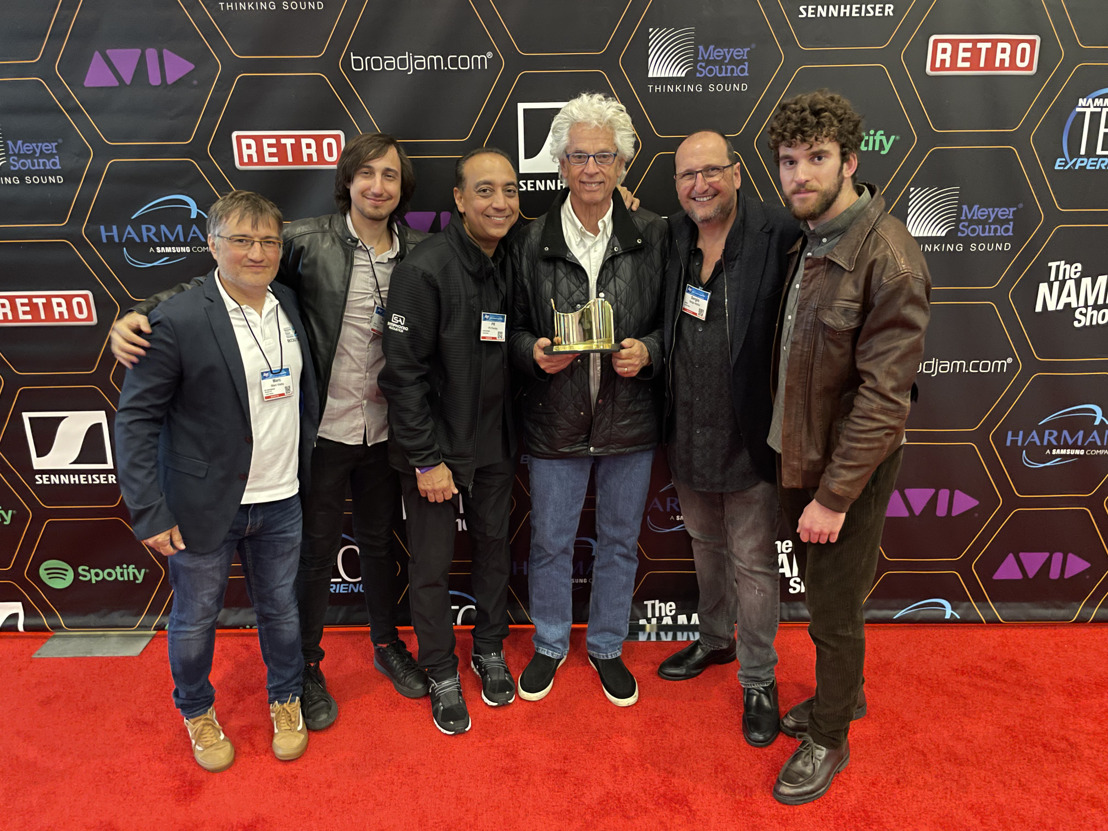 WSDG's Spotify at Mateo Complex Receives TEC Studio Design Project Award
ANAHEIM, CA April 14, 2023 — Global architectural acoustic consulting and design firm WSDG (Walters-Storyk Design Group) was recognized for Outstanding Technical Achievement for its design of the Spotify At Mateo content creation facility in Los Angeles, CA. Presented by The NAMM Foundation, The NAMM TEC Awards are bestowed annually in celebration of the pro audio community by recognizing the individuals, companies, and technical innovations behind today's sound recordings, live performances, films, television, video games, and other media. This marks the twelfth time WSDG has been recognized by the TEC awards.
"Spotify at Mateo was a truly interdisciplinary undertaking, one that enabled us to draw on every aspect of our expertise in studio design, electroacoustics, A/V system design, and production lighting to bring this extraordinary project to life," said WSDG COO Joshua Morris. "Working with the Spotify team we created a next-generation facility that offers the best of both worlds in analog and digital music and podcast production, at a scale that makes it the foremost such facility in the world. We're extremely proud to see this project honored at the TEC Awards."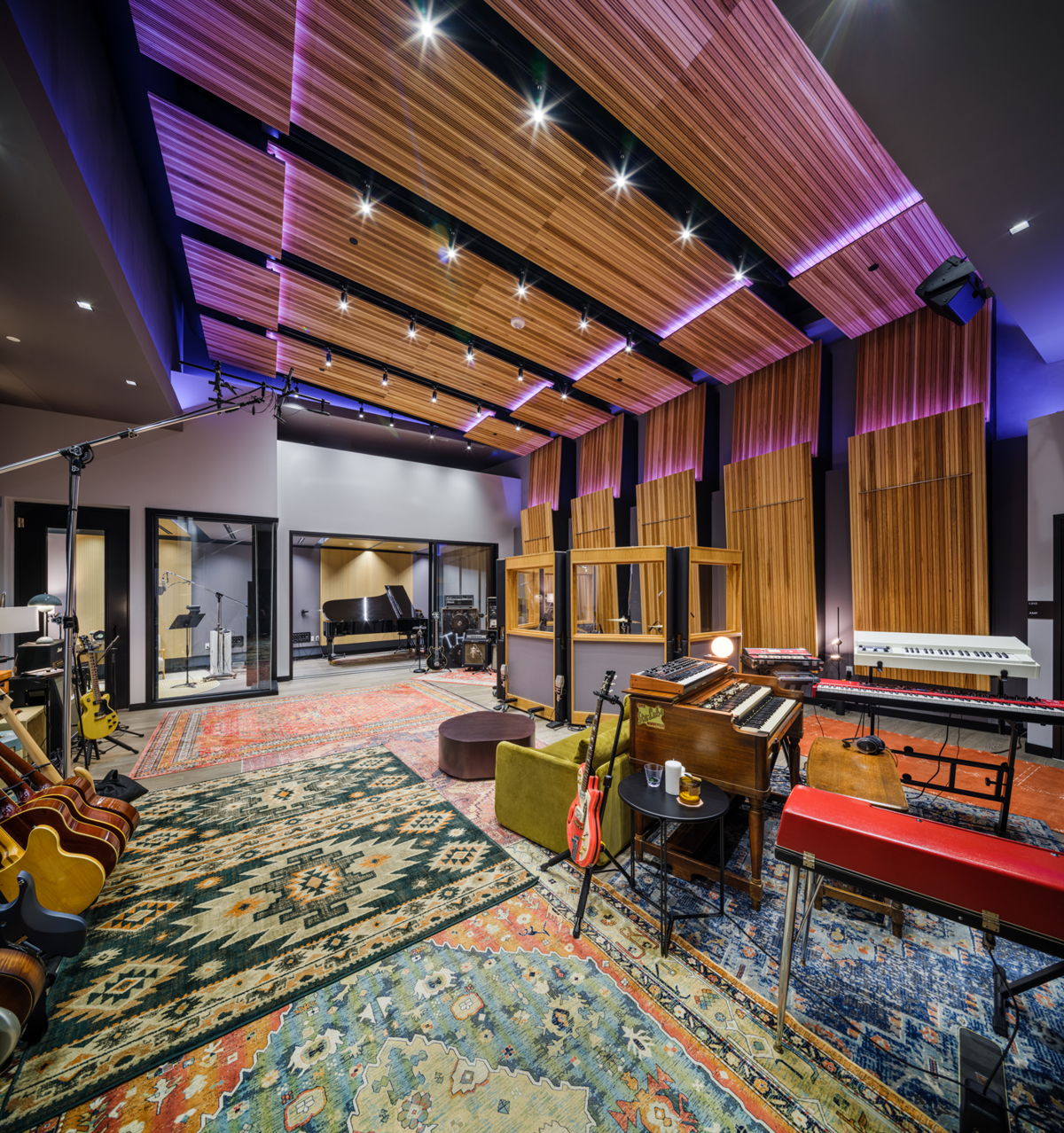 About Spotify at Mateo
​The 150,000 sq ft campus is located in the heart of LA's historic Arts District and serves as Spotify's flagship destination for their rapidly growing content creation division as well as a crucial artistic hub for LA's podcast and music professionals. Designed as an immersive, all-in-one experience with every aspect of music and podcast production, post-production, and performance under one roof, Spotify at Mateo required a wide variety of recording and production spaces to be utilized by both visiting artists and Spotify's in-house team of creators and producers. Additionally, communal listening and performance spaces were also required. The overall campus was designed by LA design collective RIOS, with studio design, electroacoustics, A/V systems design, and production lighting by WSDG.
Building One includes a pair of full-featured recording studios, A and B, and a podcast recording studio. Studio A features a 48-channel Rupert Neve Designs Shelford 5088 console. Studio B is equipped with an Avid S4 24-fader Control Surface with Dolby Atmos mix capability. Both studios share a purpose-designed echo chamber. Studio A ​ also features an innovative set of hinged panels to provide variable acoustic conditions within the spaces and a purpose-designed echo chamber. WSDG also developed the acoustics for the onsite screening room, event hall, and three listening rooms in Building Two.
Building Four's 'Pod City' is a honeycombed collection of spaces created specifically for podcasting. This includes Spotify's Flagship Podcast Studio D, as well as 15 additional podcast studios, two production rooms, and three artist lounges. All of the rooms have multiple windows for access to natural light and greenery and were created by WSDG in a seamless systems design collaboration with SPL to assure flawless acoustics. SPL was also responsible for the podcast AV systems.
WSDG Founding Partner John Storyk concludes, "We are grateful to accept this award for our work on Spotify at Mateo. It's a great honor to be recognized by our peers and partners in the industry, and a major kick to add a twelfth TEC to our collection."
Spotify at Mateo photos by Tom McGovern
For more information about WSDG, please visit: http://www.wsdg.com/
ABOUT WSDG, LLC
​WSDG (Walters-Storyk Design Group) is an 11-time TEC award-winning international firm specializing in architectural acoustic consulting and media systems engineering. Pioneering architect/acoustician, John Storyk (AIA), founded the company in 1969 with the creation of Jimi Hendrix's Electric Lady Studios in New York City's Greenwich Village. ​
WSDG provides a wide portfolio of design and consulting services that support architectural projects during all phases. Our international team of consultants have provided timely, detailed and cost-effective advice on highly sensitive and complex architectural construction and renovation projects, from small but critical retrofits to challenging ground up construction projects. WSDG has extensive experience with sensitive architectural issues including historical renovations, additions and new construction projects in media production, corporate, government, transportation, education, broadcasting and cultural / entertainment sectors.
Past clients include Jay-Z, Bruce Springsteen, Alicia Keys, J Cole, and Jack Antonoff, corporate entities such as Spotify, Sony, CBS, Novartis, and IBM, and global governmental AV installations as well as educational institutions such as Berklee College of Music, UCLA, University of Music Vienna, and NYU.

Steve Bailey Public Relations, Hummingbird Media